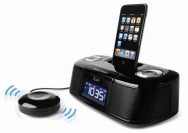 Accessory vendor iLuv on Tuesday announced the iMM153 Desktop Dual Alarm Clock with Bed Shaker for iPod. The $60 stereo alarm clock provides two independent alarms and seven different ways to wake up to your favorite music: iPod audio, FM-radio audio, a buzzer, a "bed shaker," or any combination of the bed shaker and one of the three audible alarms. The bed shaker is a wired vibration pod you can place under your pillow or on your bed to help you wake up.
Other features include a Universal iPod dock that charges your iPod while docked, an auxiliary input jack for connecting other audio sources, a large LCD display with ten levels of brightness, a sleep function for iPod or FM audio, and ten FM-radio presets. The iMM153 works with all iPod nano and touch models, as well as standard iPods back to the iPod with video.
The iMM153 will be available in July in black, blue, pink, or white.