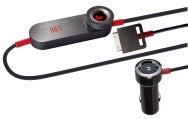 Audio-accessory vendor Monster has announced seven new products for Apple's iPod and iPhone. The $100 iCarPlay Wireless 1000 and $80 iCarPlay Wireless 800 are FM transmitters for playing your iPod or iPhone's audio through your car stereo system. Both accessories feature Monster's AutoScan 3D technology for finding clear broadcast frequencies, provide line-level audio outputs for those car stereos with audio-input jacks, and charge your iPod or iPhone while connected. The 800 features Monster's M-Drive multi-function controller knob. The 1000 can also be used at home: The unit's USB power cable can be unplugged from the car charger and connected to any USB port or USB charger.
The $50 iCarCharger 1000 is an iPod/iPhone car charger with a line-level audio output that lets you connect your player to a car stereo with an auxiliary-input jack. The iCarCharger 1000's charger unit, which plugs into your automobile's accessory ("cigarette-lighter") jack, provides buttons for controlling playback without having to access your iPod or iPhone's own controls.
The $20 iCarPlay Cassette 800 is an adapter for playing an iPod or iPhone's audio through a car stereo with a cassette deck. Monster says the iCarPlay Cassette 800, which connects to your player's headphone jack or to the audio-out jack of any of the Monster products mentioned above, has an improved cassette head for better quality, a digital display, and multiple cable outlets to fit most cassette-deck slots.
The $15 iCable 800 and $30 iCable 1000 are 1/8-inch miniplug-to-miniplug cables for connecting any audio device with a stereo minijack output to an automobile head unit with a stereo minijack input. The 800 is three feet long; the 1000 is seven feet in length.
Finally, the $20 iSplitter 1000 is a headphone splitter that lets two people listen to a single headphone jack, providing each person with a separate volume control.
At the time of publication, the Monster Web site had not been updated with information about the new products.