Can't figure out whether to get the photo enthusiast on your shopping list a digital picture frame or a snapshot printer? With Epson's new PictureMate Show PM 300, you can get both. Thanks to the device's gigantic LCD, Epson's newest snapshot printer is being touted as a "versatile hybrid," serving as both a printer and a picture frame.
The PictureMate Show has a 16:9, 800-by-400 resolution color LCD that measures 7 inches, which is about as big as some digital picture frames like Transcend's PF720 ( ). Epson includes 12 slideshow formats, a remote control, and 270MB of internal memory to store pictures. The PictureMate Show can also read images from memory cards, USB flash drives, PictBridge-enabled cameras, and mobile devices via Bluetooth.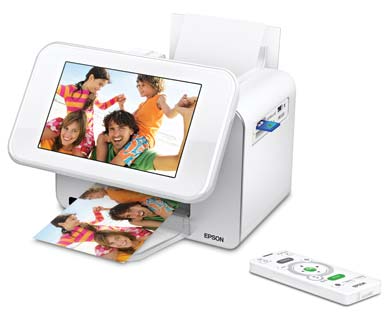 The PictureMate Show looks more like a printer with a big LCD than an actual frame that just happens to be a printer, like Mimo Monitor's iMo Foto Frame. The inkjet printer inside the PictureMate Show is capable of printing only 4-by-6 pictures, though Epson says pictures take only 37 seconds to print.
Epson sells both glossy (150 sheets) and matte (100 sheets) refill packs. The packs cost $38 each, which breaks down to about 25 cents per print for glossy and 38 cents per print for matte. That's not as cheap as, say, going to Costco for picture processing, but snapshot printers like the PictureMate Show offer the convenience of on-the-spot output.
The PictureMate Show is available now for $300 ( Get best current price).