Reader Jim Bradley seeks a way to securely wipe the data from his hard drive. He writes:
Some time back there was an ad for software that would erase hard disks with the method approved by the U.S. government by writing 0s and 1s on the drive in several manners. Does such a software still exist, what is the name of the vendor, and is it for the Macintosh (PowerPC and Intel)?
Such software does exist and you'll be happy to know that it's free and likely already on your Mac if you're running Tiger or Leopard. You'll find it this way:
Launch Disk Utility (/Applications/Utilities) and when the application opens select the drive you want to erase in the pane on the left side of the Disk Utility window. Click the Erase tab and then click the Security Options button below. In the sheet that appears you'll see four options—Don't Erase Data, Zero Out Data, 7-Pass Erase, and 35-Pass Erase.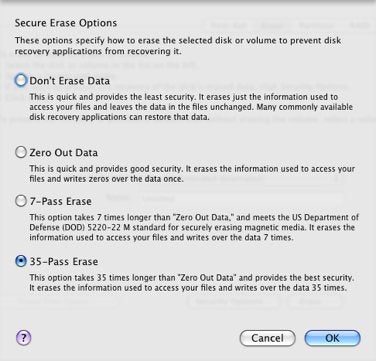 The Don't Erase Data option—as its name implies—doesn't erase any data. Rather, it wipes out the directory that tells your Mac where your data is. Any number of third-party utilities could scour your drive and recover your data after you've employed this option. So, not secure.
Zero Out Data writes zeros over your drive one time. It's not up to government standards, but recovering data from this drive would be a chore.
7-Pass Erase meets that US Department of Defense 5220-22 M standard about which you've heard so many good things. It writes over your data seven times.
And for the truly paran… er, concerned, there's the 35-Pass Erase option, which, as the name hints, writes junk over your drive 35 times. If you want your data super-mega-ultra-really gone, this is the one to use.
Note that the 7-pass option takes seven times longer to overwrite your data than does the Zero Out Data option. Likewise, the 35-Pass option takes 35 times as long.
If even these options leave you with a slight case of the jim-jams, allow me to propose the Multi-Pass Sledgehammer option. If you need your data to be totally unrecoverable and are willing to sacrifice a hard drive to make that happen, extract the drive from your Mac, take it out back, and beat the living hell out of it.