Amazingly enough, some folks still send snail mail. When the iPhone crowd mails postcards, though, they don't need pen, paper, or even a stamp. Rather, they can look to Postino and HazelMail Postcards, two competing free apps that both aim to allow you to create and send custom photo postcards with just a few taps.
Each app lets you use any photo that's on your iPhone or iPod touch, or take one with the iPhone's built-in camera. You can then add a small bit of decoration and your message, before mailing it out to one or more recipients.
Neither app can rival the elegance of Postage ( ). Since Postage currently only allows you to create digital postcards—the other two apps can create physical postcards you send in the mail—that's not an entirely fair comparison. Still, when using HazelMail and Postino, I couldn't help but notice that they truly pale when stacked against Postage and its intuitive interface.
Read more…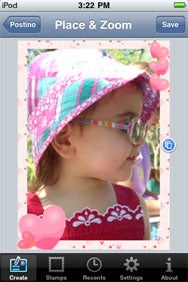 Take Postino from AnguriaLab. The app's flow is somewhat awkward: You double-tap on your photo to add a border, but it's tough to know how the borders will look before you apply them, since the thumbnails are fairly small. I'd prefer a quicker, simpler way to try out different borders. The border options available are pretty limited, with few offering much more than a plain solid-color gradient. Adjusting the photo itself is entirely intuitive: You pinch, drag, and zoom until satisfied.
One clever feature that Postino offers is the ability to create a custom signature for each postcard you write. You can choose from a variety of colors and pen sizes, and draw right on your iPhone's screen. Unfortunately, the app offers no built-in way to preview your postcard before you send it; at first, I didn't know that my signature would end up being displayed on the bottom right of my postcard—leaving my left-aligned "Love," looking a bit stranded. Since Postino, like Postage, also lets you e-mail your postcards, I've taken to e-mailing myself my creations before I trigger them to be mailed. A built-in preview feature would be much appreciated.
If Postino's interface is merely adequate, HazelMail's is abysmal. Before you can even start using HazelMail.com's app, you're forced to create an account… in Safari. Once you've done that and relaunched the app, it's time to make your first postcard. (Note that HazelMail postcards can only be mailed; there's no digital sending option.) Zooming and tweaking of the photos you choose is extremely limited: There's no multi-touch interface here, just weird, '90s-esque orange buttons to either stretch your photo to fit the full size of the postcard, or leave it letterboxed. It's a bizarre way to handle the process, particularly for an app whose focus is on creating printed versions of your photos.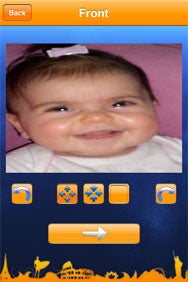 Border options are similarly lacking—you can choose from a few solid colors, and that's it. (And if you "stretch" your photo, you get no border at all.)
HazelMail's one saving grace is that the app does indeed offer a preview of both the front and back of your postcard before you send it.
When it's time to mail your postcard, Postino is notably faster than HazelMail at uploading your creation. Each app, of course, makes you pay to mail your postcards. Postino's rates work out to about $2 per postcard, or slightly less if you buy in bulk. Sending a HazelMail postcard costs just $1. Both apps integrate with your mobile device's address book. (One small but annoying glitch: Postino's form fields for the recipient's name should default to starting with capital letters, but don't.)
I sent test postcards all around the country. In my unscientific tests, Postino's postcards arrived in 3 days; HazelMail showed up in four. The printed photo quality from Postino is notably better than HazelMail, whose final product looked blotchy with some artifacting.
Though mailing your postcards costs about twice as much, I certainly recommend Postino over HazelMail. Postino feels like an iPhone app—just one that needs some work. HazelMail feels like a System 7 application, totally out of place on the iPhone. But frankly, if Postage ever adds a postal-mailing option, neither of these two apps will stand a chance.
Both apps are compatible with any iPhone or iPod touch running the iPhone 2.2 software update.
[ Lex Friedman is a frequent Macworld contributor.]