At a Glance
Expert's Rating
Pros
Maps of North America and Europe
Thin profile, crisp screen
Cons
Routes can't include more than two stops
Often outdated or inaccurate POI data
Our Verdict
If you're a frequent pond jumper, Garmin's nüvi 1370T (with maps of North America and that place across the pond called Europe) is a GPS device worth considering. It's lightweight, it has a crisp 4.3-inch touchscreen, and it offers plenty of features. On the flip side, the 1370T is lacking a few essentials, it can be slow to pick up a satellite signal, and it doesn't offer much useful points-of-interest (POI) information.
The nüvi 1370T is part of Garmin's T series of thin and light GPS devices. The sleek, attractive, black GPS unit is 0.6 inches thick, about 0.02 inches less than some other Garmin models, and it weighs 5.7 ounces. That doesn't sound like much, but every bit helps.
Aside from turn-by-turn directions with spoken street names, the nüvi 1370T has plenty of GPS features to rev your engine. Among them are pedestrian mode; Garmin's "ecorouting" (which devises routes based on fuel efficiency); free traffic alerts (via an integrated FM receiver); Bluetooth (for hands-free dialing and talking on your connected mobile phone); and lane assist (which helps visually guide you to the correct lane when you're approaching an exit). I also like the option to display the on-screen keyboard in QWERTY mode, something not all GPS units offer.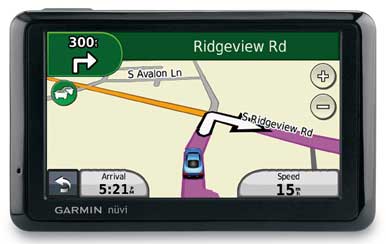 Driving directions were generally accurate, though (as with every GPS unit I've tested) the device produced a few head-scratchers. For example, when I was heading east on Market Street in San Francisco to reach a Safeway store, why did the nüvi 1370T want me to drive past the store, make two rights, and circle back to Market Street? All I had to do was make a perfectly legal left turn into the store's parking lot.
The nüvi 1370T lacks some navigation tools, as well. For example, you can have only one or two destinations on a single route. That's not terribly helpful if you're planning a nonstop day of sightseeing, and it's a deal-killer for real-estate agents and other people who frequently make multiple stops in one trip.
I don't require an MP3 player on a GPS device (and the nüvi 1370T doesn't have one). However, I would have liked the ability to listen to turn-by-turn directions through headphones while using the pedestrian mode, but the nüvi 1370T has no headphone jack. The nüvi 1370T also doesn't offer voice-activated navigation, 3D-building view, or junction view, features you'd find in some other high-end GPS units. The last item is a helpful lane-assist feature that graphically represents road signs to help you navigate a potentially confusing intersection or exit.
Upon powering up, the nüvi 1370T often dawdles on its way to finding a satellite signal, which quickly consumes battery power. But route calculations and recalculations are zippy.
Moving through menu items is fairly fast and easy. After calculating a route, though, I'd like to be able to change the routing preference (switching from, say, Faster Time to Shorter Distance) without having to return to the main screen and select Tools, Settings, Navigation, and then Route Preference.
Probably my biggest complaint about the nüvi 1370T is its points-of-interest database. POIs are restaurants, shops, landmarks, and other places for which you can search and to which you can navigate. But a noticeable amount of POIs I looked up on the nüvi 1370T in San Francisco were outdated, inaccurate, or just plain missing.
One example: A search for nearby movie theaters found the Galaxy and the Metro, both of which closed years ago, but not the Embarcadero Center Cinema, which is still very much alive. The Castro, which is a movie house that sometimes hosts live events, was listed among performing-arts theaters but not among movie theaters. I found similar discrepancies in other POI categories as well. (Garmin offers CityXplorer maps, which reportedly provide "the latest…points of interest" as well as mass-transit information for metro areas around the globe. But they're an additional purchase of $10 or $15 each.)
If you travel frequently between North America and Europe and you often find yourself in unfamiliar areas, the nüvi 1370T might be the GPS device for you, if you don't mind some compromises.