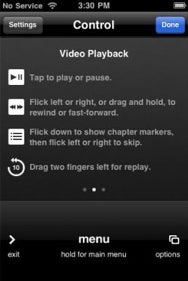 Few people would question the argument that the Apple TV receives the least love from the mother-ship among its current crop of product families (although the Cinema Displays can give it a tough fight for the bottom rung). That said, Apple still manages to sneak in new software updates for the device on an occasional basis—some of them even happen to add nifty new features.
Take Wednesday's Apple TV software update 2.4, for example, which adds the ability to control audio and video playback using flick gestures of your iPhone or iPod touch, Flickr search, new view modes, and updated transport and chapter modes, among other things.
The primary new feature is the new control scheme for the device, which works in conjunction with an iPhone or iPod touch running the latest 3.0 firmware and version 2.3 of Apple's free Remote application [ iTunes link]. As you can see in the screenshot above, you can now flick your iPhone left or right to have the videos rewind or fast-forward; a downward flick displays the chapter markers, and you can flick left or right here to skip between them. A simple tap anywhere on the screen toggles between Play and Pause and dragging two fingers to the left rewinds the video by ten seconds. A slightly different set of gestures work for controlling audio playback as well.
The new Flickr search feature also adds the capability to save searches and use the constantly updating stream as a screensaver. The new viewing modes now allow you to browse movies by genre or scroll through only your unwatched items. Similarly, you can now browse television shows and podcasts by date or show and also choose to have only the unwatched episodes displayed.
All these changes are listed in brief on Apple's support document for Apple TV software updates. To get a hold of the latest version of the firmware on your Apple TV, navigate to Settings -> General -> About -> Software Update on your Apple TV and have it check for and download the latest software. And once you have the update installed, please be a bit careful with your iPhone—the last thing we want is for you to hurl your iPhone into the television as you try to skip past the boring bits of Lost.
[via Mac Rumors]