As the sun set in Tokyo on Thursday evening and the clock counted down toward the launch of the iPhone 3GS on Friday morning, the number of people waiting in front of Softbank Mobile's flagship store in the Omotesando district grew to around 100 and comradery and a party-like atmosphere spread through the crowd.
The line is shorter than last year, when the iPhone first went on sale in Japan, but those queuing appear every bit as eager to get their hands on the new phone. Among those waiting in line, some were already using iPhones and said they would be upgrading and others said they were switching from other phones or rival carriers to get the iPhone 3GS.
The new handset brings several improvements over the previous model, including a speedier experience, longer battery life and a video camera function.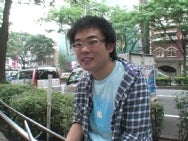 At the head of the queue was Taisuke Fujimoto, who was first to arrive at just before 10 a.m. He was later joined at around lunchtime and the queue grew from there. At 5 p.m. it was around 40 strong but had more than doubled to about 100 people by 7 p.m. It is likely to grow further during the night as Softbank has an event planned in the run-up to start of sales at 7 a.m. on Friday.
As might be expected at any launch event of an Apple product there were a fair few Apple laptops in use and several people were wearing Apple t-shirts, but near the front of the queue the fashion was slightly different. Wearing Android t-shirts were two good-natured members of a group promoting the Google-developed operating system in Japan.
"Last year I made an iPhone application," said Noritsuna Imamura, who was wearing a yellow Android shirt. "It uses the touch interface and both iPhone and Android interfaces require a delicate touch. If I don't experience both I won't know what I need to do for touch-applications."
The event was also being used for a spot of guerilla marketing but the companies that turned up between 5 p.m. and 7 p.m. had a foot in the iPhone or IT communities so their intentions were forgiven by those in line.
Fieldsystem, which develops the Newtonica game for the iPhone, came to hand out t-shirts promoting its brand and show off its games to the soon-to-be iPhone owners.
Turning a few more heads was Node Japan, which used the time-honored formula of a pretty woman to promote its BijoCal application. The software delivers a picture of a Japanese model daily in a calendar format to the iPhone.
Also out and near the head of the queue was the local distributor for Poken, a sort of digital business card that can be used by people to trade contact details and social networking IDs with a single touch. It was selling the devices and they appeared popular with some in the queue.
In addition to Japan, the iPhone 3GS will also debut on Friday in Australia, Austria, Belgium, Ireland and the Netherlands. Other countries will get it in July or August.