At a Glance
Expert's Rating
Pros
Excellent image quality
Nicely designed
Cons
Touchpad can be slow to respond
No audio or video support
Our Verdict
In its warm brown wooden frame, Kodak's EasyShare D830 digital picture frame easily blends in with any other frames arranged on your desk or coffee table. With this model, however, Kodak has decided to allow you to replace the frame in the box with any picture frame you choose: Simply pop out the D830 display, slip the new frame over it, and slide the toggles to hold it all together.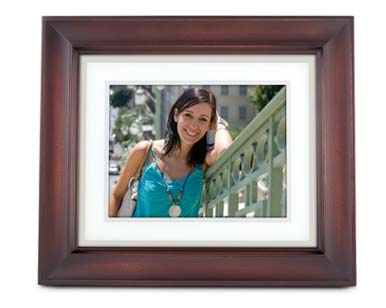 The D830 has 512MB of internal memory and it accepts SD, SDHC, MMC, Memory Stick, MS Pro/MS Pro Duo, and xD cards, as well as USB. Simply plug in your card and the show begins. Images on the 800-by-600-pixel screen popped with vibrance and sharpness.
The D830 will show pictures full-screen or create on-the-fly photo collages, but this frame is strictly traditionalist: no video, no audio. The D830 is just as simple to use, though: You operate its menus through the touch border hidden within its faux mat. In addition, those hidden controls will glow once you get close enough to the frame's sensor—a neat (and helpful) trick. But alas, you can't plug this frame into a wall somewhere, which relegates its good looks to a table or desk.
Macworld's buying advice
The D830's main appeal lies in its extreme ease of use, and the fact that it's unselfconsciously simply being a picture frame. The swappable frame option is also a definite plus if you want to switch up your décor.