Whether it's for desktops, handheld devices, or mobile phones, there will always be golf games. And Arb Studios has thrown its hat into the App Store's growing ring of golf games with Tiki Golf 3D. The twist here is that you're stepping into the golf shoes of Tiki Bobby, taking on the Tiki gods Lono and Kahuna, who have absconded with your prize artifacts.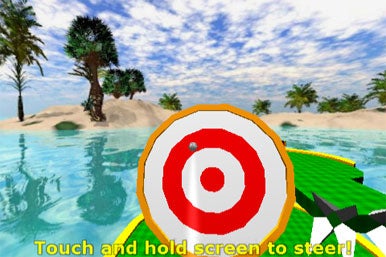 The prizes themselves can be retrieved by golfing through multiple nine-hole courses featuring floating islands, ramps, power boosts, bonuses, giant dartboard targets that shave shots from your score when you hit them, loop-de-loops, pipes, pineapples and other obstacles.
Tiki Golf 3D features three playable modes—a putting module, a mode where you collect a given number of pineapples as you play each hole, and a time trial where each hole must be finished by a designated time. The game also offers two unlockable difficulty levels, 18 primary holes and 19 alternate holes.
Tiki Golf 3D carries itself well, thanks to good graphics, imaginative settings, a sophisticated physics engine, and great audio. The game also relies on a good control system that adapts well to the iPhone interface. You set up shots by quickly tapping the screen, waiting until the power bar reaches a given point, and then tapping again to take the shot. While the game frequently auto-aims for you, you can also use two fingers to rotate a directional arrow for manually aiming your shots.
While manually lining up a shot is nice, this element of the game frequently feels awkward and buggy. The arrow moves jerkily; sometimes, it doesn't point in the direction you're trying to shoot in. Combine those glitches with an occasionally clipped frame rate, and you've got a game that still needs a little fine-tuning.
Bugs aside, the $3 Tiki Golf 3D remains fun, energetic and a good way to kill 10 to 15 minutes at a time. Unlockable elements keep you coming back and it's fun to figure out the perfect shot, get the power right and hear a gentle, satisfying "ka-thunk" as the ball finds its way into the hole under par. Tiki Golf 3D is fun with some rough edges at this point.
Tiki Golf 3D is compatible with any iPhone or iPod touch running the iPhone 2.2.1 software update.
[Chris Barylick is a frequent contributor to Macworld.]