In my ongoing Oooh/Feh relationship with the Apple TV, I've largely placed the Apple hardware remote control in the Feh column. The introduction of Apple's Remote app gave me a fine excuse to move away from that hardware remote. But even then I wasn't completely satisfied. Like reviewer, Dan Frakes, I liked using Remote app, but I found this (as quoted from Dan's review) a little awkward:
…"you can't use Remote to navigate the Apple TV's own interface; Remote effectively replaces that interface."
So, instead of controlling the Apple TV by scrolling through its menus, you navigated it as if you were navigating the media collection on your iPhone or iPod touch. Fine, but it made the on-TV interface seem superfluous.
Today, Apple addressed this issue by providing the best of both worlds with a 2.4 software update for the Apple TV and a 1.3 update of the Remote app. If you like that Apple-TV-on-iPhone interface approach, it's still there. What's new is the ability to control your Apple TV by tapping and flicking the screen of your iPhone or iPod touch.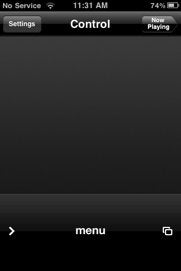 The easiest way to explain how this works is to imagine walking up to your TV screen and swiping and tapping the screen to navigate the Apple TV's interface. So, if you want to select a command, drag your finger down the screen until the command you want is highlighted. To activate that command, tap the screen. When you want to move through a series of items—say movies available from the iTunes Store, which are arrayed in a series of thumbnails—just flick your finger to the left to move forward through those items. To move back, flick your finger to the right.
Now, just do that on your iPhone or iPod touch—flick and tap—and you've pretty much got it.
The finer points
Going beyond, "pretty much," there are a few more things to know. At the bottom of the screen is a Menu button that you tap to move back up a level—just as you would with a hardware remote's Menu button—or tap and hold to take you back to the main menu. This is a nice shortcut when you don't feel like traipsing through a couple of layers of the command heirarchy as you might when watching a Flickr slideshow.
To play and pause videos, just tap the screen. To initiate fast-forward or rewind, just drag and hold on the right or left side of the screen, respectively. To navigate through chapters, flick down and a chapters timeline appears on the TV screen, flick to the right to advance a chapter and to the left to retreat a chapter. To skip back 10 seconds, swipe two fingers to the left.
Music works similarly. A tap starts playback or pauses a playing track. Drag and hold left or right to rewind or fast-forward, respectively. Swipe to the right to hear the next track in the playlist or left to hear the previous track. While playing a slideshow you can swipe your finger down to turn down the volume of a background music track or swipe up to increase the volume.
There's an Options button at the bottom-right of the screen. Tap it and any option available for a particular kind of media on the Apple TV appear. For example, if you're playing a music track and tap the Options button, the Apple TV displays a list of commands that includes Start Genius, Add to On-The-Go, Browse Artist, Browse Album, and Cancel. When listening to an audiobook, tapping Options provides the single option to add it to the On-The-Go playlist.
Tap that Options button while watching a video and you can navigate through thumbnail images of the video's chapters by swiping. Swipe to the chapter you want, tap, and the video begins playing from that chapter.
You can tap the Options button from now until Doomsday when in the Photos or YouTube areas and you'll get no reward. That's too bad as I'd love to see options appear for slideshows that include quickly turning off the Ken Burns effect.
Speaking of YouTube, yes, when you need to enter text—search YouTube or the iTunes Store or enter your Apple ID—the iPhone/iPod touch's keyboard appears, ready to do your bidding. From now on, you can bid the alphabet block and tiresome text entry a not-so-fond farewell. The keyboard doesn't appear, however, when you're asked to enter an IP address for configuring a network. (Though flicking up and down lets you scroll through digits in such odometer screens.)
Nice
The Apple TV responds very nicely to Remote app's flicks and taps—more so, in my experience, than Apple's hardware remote. It can't do anything for the Apple TV-inherent delays that I've come to expect—occasional slow load times of networked and online media—but once the content is available to the device, the Remote app has no problem moving to it quickly. If you have an Apple TV and iPod touch or iPhone, this is a must-have update.
Story updated to include information about the availability of the iPhone keyboard when entering text.