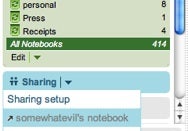 Evernote, the ubiquitous digital-scrapbook service that wishes it were your third arm, has finally taken the next logical step and enabled sharing. Users can now open up their notebooks for collaborative editing to a select few individuals, or even the entire world.
Announced on the Evernote blog, users logged into the Web interface will see a new Sharing Setup panel in the sidebar. Users can enable sharing on a per-notebook basis, opening up a lot of possibilities for co-workers to collaborate on projects, families to plan for vacations, students to compile research, or for couples to get shopping done.
Sharing a notebook with the world appears to allow full add-and-edit functionality, while sharing with specific individuals by email address allows for setting permissions, such as view-only.
There are a couple of caveats with Evernote's new sharing features. First, it requires that users be Premium members to enable sharing on a notebook (free users can still make edits, however). Premium memberships only cost $5 per month, and considering Evernote's many features and ubiquity across Mac, iPhone, Windows, Web, and generic mobile clients, it's not a high price to pay.
The other catch is that Evernote's sharing features are only accessible on the Web for now (you can't even see a shared notebook in the Mac client, let alone add content to it). The company says this is "Phase 1" of the sharing-feature deployment; Phase 2 will allow those using native desktop or mobile clients to access and add content to shared notebooks.