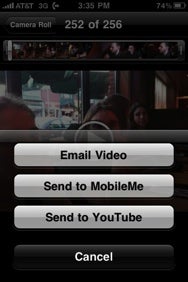 iPhone owners are certainly a multimedia-aware bunch. Less than a year after the original iPhone's release, it had already become the most popular cameraphone on photo-sharing site Flickr, and that lead has only continued to grow with two subsequent, more affordable iterations.
Furthermore, it appears that the impact of the newly-released iPhone 3GS on video may be no less profound. In a post on the YouTube blog product manager Dwipal Desai and community manager Mia Quagliarello say that the number of videos uploaded to the sharing site from mobile phones has jumped 400 percent a day since the iPhone 3GS's release last Friday.
That's a pretty substantial increase, though it's just part of a larger increase of 1,700 percent over the last six months. The iPhone 3GS incorporates YouTube upload as part of its video-shooting and -editing features, and clearly the ease of use has paid off. Mix that in with the over one million iPhone 3GS units already sold, and the device clearly has an opportunity to turn mobile video sharing from a niche into a part of our everyday life.
Whether or not that's a good thing, well, we'll leave that up to you to decide.
Update: I misread the statistic on the original YouTube blog post. The actual figure is a 400 percent increase per day since last Friday. I regret the error and have corrected the story above.
[via Infinite Loop]