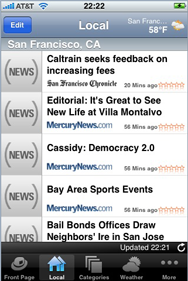 The Associated Press has an iPhone app. So does AccuWeather.com, the Pennsylvania-based weather service. And just like the chocolate-peanut butter experiments conducted at Reese's Labs in the '70s and '80s, someone wondered whether these two great news sources would go great together.
And so on Thursday, both AccuWeather.com and The Associated Press announced that the former would deliver mobile weather information to the latter's free AP Mobile app. AccuWeather says it will offer a full range of weather information updated hourly for spots around the world. Specifically, AP Mobile will offer current local weather conditions, five-day forecasts, radar and satellite images (for areas where that feature's available), and links to AccuWeather's mobile device-friendly site.
AP Mobile has undergone a few changes recently. Last week, an updated version of the app arrived on the App Store just in time to take advantage of the new features in the iPhone OS 3.0 update. AP says its mobile app takes advantage of push notifications to deliver breaking news alerts even when users don't have the AP Mobile app open.