"PRETT- G–D"
That's how I'd describe Sony Picture Television's $5 Wheel of Fortune app for iPhone. The game plays pretty much like every other video game incarnation of a TV game show, and it's certainly fun. A few imperfections mar the experience a bit, but don't negate the fun.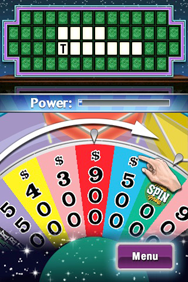 This is your mother's Wheel of Fortune. Although the game's evolved some in the approximately 300 years it's been on the airwaves, you're still pretty much playing hangman for money. The iPhone version smartly offers a few different play modes.
The fastest way to play is "Toss-Up Game." It's a single-player race against time; letters reveal at random in the puzzle, and you've got to solve it before time runs out. The faster you do, the more virtual cash you earn. In "Normal Game" mode, you can choose whether to play against easy, medium, or hard opponents, or you can again play solo. Normal mode features the game's eponymous wheel, and the developers included a feature that's simple, and screamingly obvious when you think about it—and yet, it's a blast.
You spin the wheel by flicking.
Of course you do, right? But it's kind of awesome. The power of your flick affects the speed of the wheel, and it really doesn't get old. What does get old, though, is watching your automated opponents on their turns, as they spin the wheel, guess letters, get those letters revealed, and repeat. Wheel of Fortune mercifully sports a Skip button to advance through those moments more quickly—but it's woefully inadequate. Tapping Skip jumps to the end of the wheel spin, but then you've got to tap a second time to hurry past their guess, and again to blow by the reveal. And if they guess correctly, you get to Skip-Skip-Skip all over again. I would gladly pay triple the going-rate on vowels for a single preference that automated the fast-forwarding.
If, somehow, you've never seen Wheel of Fortune, or you haven't played since Pat Sajak's hair looked that way naturally, the plentiful in-game prompts will guide you along. They're well-written and unobtrusive.
Some of the sound effects are a little hammy: The digital clapping starts in unison the second you spin, and stops abruptly with the wheel. The music queues, on the other hand, are liberally sprinkled throughout, and are pitch-perfect.
You get limited control over your avatar—gender, skin tone, and hair style. I found the emotions that my avatar showed—ranging from enthusiastic, over-the-head clapping to mortified dejection at a wrong letter—quite amusing.
My final major complaint (besides the fact that Vanna and Pat are nowhere to be seen in the game) is the annoying placement of the Solve the Puzzle button. It's smack dab in the middle of the screen, between Spin and Buy a Vowel. Solving is rarer than those other two, and that button should be moved far away from the central target area for my fat fingers. I hit Solve when I wanted to buy a vowel over and over again, and the audience's pitying "Awwwwwww" when I had to give up on solving still haunts me.
The app keeps track of your stats (like total money earned), and awards a set of trophies ("Solved puzzle without any vowels"), too. In spite of its annoyances, Wheel of Fortune is a fairly faithful and fun recreation of the TV game.
Wheel of Fortune is compatible with any iPhone or iPod touch running the iPhone 2.2 software update.
[ L-x Fri-dman is a fr-qu-nt Macworld contributor.]