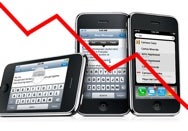 Who's got time to talk about Steve Jobs' liver when the iPhone is a harbinger of economic DOOM! Meanwhile, buyers give us the four-two-zero on netbook ownership and porn finally arrives at the App Store! Sort of!
iPhone buyers kill the economy
Sometimes there's a certain madness that afflicts people who cover Apple. Douglas A. McIntyre, writing for 24/7 Wall St. (not an actual address), wonders Will Apple iPhone Sales Cause A New Recession?
It's a wonder the economy is in such bad condition, what with a brain trust like this providing analysis for us. Noting that total cost commitments to iPhone purchases could balloon to as much as $4 billion by the end of the summer, McIntyre warns:
The success of the new phone is either a sign that customers have the cash to help push up consumer spending, or they are willing to return to their leveraged habits, habits that helped bring on and then exacerbate the recession.
Binary much? Apparently it's not possible that some of the people who bought an iPhone will be able to pay it off immediately and some are borrowing to pay for it. No, the fate of the economy hinges on how you paid for your iPhone.
McIntyre suspects we were all irresponsible and wags his finger at the naughty, naughty iPhone buyers.
No one pay cash anymore if they can use leverage. The recession has probably not taught people a thing.
Which is strange because he wasn't always concerned about where the money comes from. Like back in September when he suggested that taxpayers would gladly open their wallets even further to make the angry Wall Street volcano god stop erupting. Shorter Douglas A. McIntyre: buying things for yourself = risky and irresponsible. Buying things for Wall Street brokers = prudent fiscal policy.
For the record, the Macalope bought two iPhones and he pays off his credit card bills every month. So the brown and furry one doesn't need some Wall Street scold to lecture him financial responsibility.
Read more…
Dazed and confused
The Macalope has long argued that netbook buyers must be on dope and a new survey lends credence to that theory, showing that netbook buyers are confused and unhappy.
But, wait, isn't that the target demographic?
Despite the prominent sales spot for netbooks, many of those buying the mini PCs are not only unsatisfied with the experience but often have unrealistic expectations, an NPD study shows.
Shocking. By which the Macalope means "hysterical."
Among college-age buyers, 65 percent expected the systems to run faster than they did, and only 27 percent were impressed by the relative speed.
Now, okay, to be fair to the little laptops that couldn't, people always want more. You give them an inch and they'll take a mile, driving all the way to your house, marching into your kitchen and stealing your cruller right out from under your nose.
But 65 percent? That's not just a couple of cruller-jackers. See, this is what the Macalope's been saying about netbooks all along (which, not coincidentally, is why he's linking to it).
The blame is chiefly laid on poor marketing that oversells the abilities of the systems as computer substitutes, which leads to disappointment when they discover that the systems are really companion PCs that don't have the power to serve as full notebook replacements.
But what about all the columns by holders of advanced degrees in silly punditry predicting that netbooks were the wave of the future and Apple better slap one together tout de suite or be consigned to the slag heap of technology?
[Sad trombone sound]
The Macalope recently got himself one o' them shiny new MacBook Pros and he's here to tell you there's no substitute for a real woman, no matter what it says on the box the blow-up doll came in.
(Segue, thy name is Macalope!)
Premature pornification
If the App Store is a-rockin', don't come a-knockin'? Well, one plucky little app seeking stardom in the big city of the App Store had broken into porn, but it was subsequently pulled. The developer said it was because the image downloads were exceeding his bandwidth but now Apple has weighed in saying he added the pornographic images after the app was approved.
Bad developer! Very bad! Oh, yes. Very, very bad.
The company has reiterated its "no porn on the App Store" stance so, sadly, it looks like you'll have to find other ways to get your groove back on your iPhone in the complete privacy afforded by municipal transportation. Like, oh, with the Apple-supplied Safari.
You're probably not missing much, though, because when the app was first posted Wired said:
The application itself is terrible.
Hey! Just like regular porn!
Not that the Macalope has ever looked at any.
Or starred in any.
Hey, he was young and needed the money. And those fetish sites pay a lot to a man/computer/beast with a rack like this.
The Macalope will be in his bunk
And on that note, the horny one wants his faithful readers to know that he'll be taking a short vacation. This publishing once a week is back-breaking and he hears Argentina is nice this time of year.
Wait, that can't be right. It's winter down there. Maybe it's just Argentinians that are nice this time of year.