Fred Graver is an unlikely iPhone developer. His background is in comedy, where he's been both a writer and producer. He has Will Wright's hair, Steve Martin's casual wit, and the nerdy excitement of a Trekkie. He has arguably one of the driest Wikipedia pages ever.
When I spoke to Graver about his new project—iLarious and the various iPhone apps being produced under its name—he didn't lecture me on development time, marketing, or the sorts of things one usually hears when talking to app makers. Instead, he talked about his experience writing for such shows as In Living Color, Cheers, and Late Night with David Letterman. And instead of name-dropping the companies his developers come from, he chose to discuss the writers he has ensnared to help with his iLarious applications. With three Emmys under his belt, and contributions from writers from The Onion, Comedy Central, The New Yorker, Collegehumor.com, and The Simpsons, Graver is hoping to redefine how we look at the mobile platform by offering a new way to interact with comedians from around the world. He may not change the world, but he'll make it a hell of a lot funnier.
Read more…
Graver's path to iPhone developing was a unique one. During last year's strike by the Writers Guild of America, he found himself talking to many of his writer friends, many of whom were fed up with the current situation on television and wanted to make the jump to writing for the Internet. At the time, Graver didn't see a business model in it—not yet. But when he saw the iPhone OS 3.0's social connectivity functions, something changed. "There's a business here now," he explains; with PVP, push notifications, and many other connectivity features on the iPhone, there's new ways to reach people and—more important to Graver—to get people to laugh.
Though Graver is the founder, he considers iLarious more a co-op than a company. The writers create the content and are masters of the destiny of their material. "We realized our sick, twisted brains were all the venture capital we needed… so whatever happens here, we own it!" he explains.
There are six projected applications to be released over the course of this summer. Some are "context rich that push things all the time" and others he described as more "goofy toys." The goal is not to create necessarily the most erudite or useful applications, Graver said, but to make "little moments in your life we make you happy." Though the prices haven't been set yet and the games haven't been released, Graver believes they'll cost for no more than $2.
The first app in the iLarious lineup is This Just In, a 10-joke-a-day application that users can subscribe to. New jokes appear on your phone as a text message and then you open the app to search through the day's jokes. When opening up the app, three tabs greet you: "Newest," "Popular," and "Cartoons." You can then view various jokes about the latest things going on in the world around you. If you like the joke, you can tweet, e-mail, or put it on your Facebook page.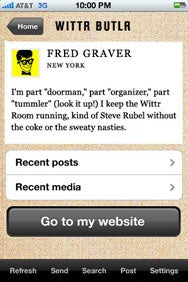 Also taking advantage of the social abilities of the iPhone, the Wittr app is a mobile talk show. According to iLarious's press materials, Wittr will offer unparalleled comic content: "Each week, teams of comics such as Upright Citizen's Brigade, Best Week Ever, Stella and Whitest Kids You Know, headline a group of 10 comics riffing on everything from today's news to pop culture to whatever they're obsessed about at the moment." It'll be launched a little later in the summer, effectively allowing users to watch what comedians are posting commentary on. A Witthappened tab will show what people have been seeing and mocking. There will even be scheduled events—for example, an announcement over the app can go out that everyone will watch a certain television show's live broadcast or see a certain movie. You can subscribe to threads, specific people, or add your own content. The most liked commentators will get bumped up to be seen by more people. You can become a Mystery Science Theater 3000-like whiz at cracking wise and get famous for it.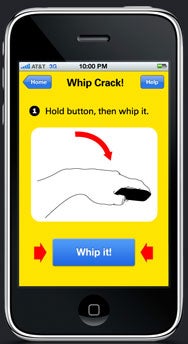 iGression is one of the "goofy gag" applications Graver was referring to. With it, you can play a slew of funny sounds with your iPhone. Collaborating with The Onion's writers, iLarious decided to create something truly useless and yet completely addictive. If you click the "whip" sound, by shaking your iPhone you'll generate a realistic bull-whip sound—great for days where you feel like going Indiana Jones on your boss.
The iNabler is what happens when you get a lot of comedy writers and "decide to make the iPhone a device of pure evil" explains Fred Graver. The application is basically a collection of 200 sayings encouraging you to behave badly. Kittens, monkeys, and other adorable animals are depicted in hilarious photos with sayings like: "Do it. What's the worst that could happen?" It's like motivational speaking for villains—iNabler is encouraging you to do bad things.
There are also plans for a "choose your own adventure" and TV/Movie bingo applications. The Choose Your Own Adventure app will allow you to confront simulated everyday situations and watch them spiral into chaos. You can send the path you took on an adventure to a friend to share your surreal experience or have them try and replicate it or experience their own. The TV/Movie Bingo app is compatible with PVP technology like Facebook Connect and allows you to effectively watch movies with your friends. You'll get a playing card with clichés or expected sayings and notification when you've hit bingo. It's really useful for drinking games, Graver admits.
Not all iPhone applications have to be about great graphics or big ideas—sometimes a small thing, like a joke, is all you need. iLarious may not change the way we look at the iPhone platform, but it may let us laugh a little more when using the mobile-everything device. The iPhone's versatility is drawing developers from all over the world to create all types of applications, and it's nice to see the court jesters have arrived.