In Magnetic Joe 2—the $2 sequel to HD Publishing's Magnetic Joe—you control the titular Grover-esque character. Joe lacks a body; he's only a head, and one with the ability to suffer through some fairly serious electromagnetic shocks.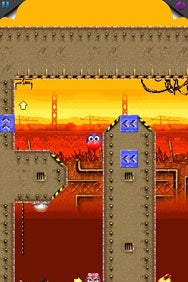 Let me back up a bit. Joe must successfully navigate through 100 levels of increasing complexity. On his own, Joe mostly just sits there, or succumbs to the effects of gravity. Luckily for him (and you), the world Joe lives in is populated with oodles of directional magnets. When you tap the screen, Joe himself becomes magnetized, and thus gets attracted toward the magnets nearest him. The sole control during gameplay is tapping and holding on the screen. It's when you tap—and how long you hold—that affects Joe's trajectory as he navigates through all kinds of obstacles.
The early training levels in Magnetic Joe 2 do the game a disservice: They're a bit too simple. Don't let the lameness of the initial levels discourage you, though. As you advance, complexity—and fun—increases exponentially.
Each magnet points Joe in a specific direction. Once you're past the beginning levels, those magnets won't always point you in the right direction. That's when not tapping becomes just as important as tapping. The challenges and elements you interact with become increasingly clever—deadly spikes, monsters, giant hacksaws, and the like must be avoided at any cost. You'll need to slam Joe into thin walls over and over again to get them to break so you can progress. And you'll need to navigate Joe ever-so-carefully around the assorted dangers into tunnels, worm holes, pulley systems, and even onto a love interest. (The warm heart that emanates from your shared love serves as a bubble that propels you in the right direction.) Sometimes you can't unlock a level's exit until you collect all the "little Joes."
All these complexities are clearly explained, easy to understand, and fun to surmount.
Levels don't just get more complicated as you progress—they get more attractive, too. I really appreciated that the game allows you to replay levels as many times you'd like. That doesn't just mean you can keep aiming to improve your times; it also means you can retry levels that keep killing you as many times as you'd like, without penalty.
Success in the game earns you stars, which you can redeem to unlock extras like other playable characters. Magnetic Joe 2 also offers a global leaderboard, so you can see how you stack up. And friends can send you direct challenges, so that you can compete against their individual scores. Uniquely, the game lets you compare your times on each level to the developer's own best achievement, as well. I do find it odd that in a game where the time you take on each level is such an important measure of success, there's no timer shown during gameplay.
The soundtrack suits the game nicely, and it's repetitive without being annoying. The artwork is fine, but certainly doesn't showcase the best the iPhone can offer.
Overall, Magnetic Joe 2 is a fun, challenging, and very replayable game. Even after you've completed every level, you can challenge yourself by playing as new characters (with different strengths) and beating your old times. Magnetic Joe 2 won't become my most-played game on the iPhone, but it's fun and affordable enough to deserve a spot on yours.
Magnetic Joe 2 is compatible with any iPhone or iPod touch running the iPhone 2.0 software update.
[Lex Friedman hopes you'll feel drawn, as if by magnetic attraction, to HireMeJimmyFallon.com.]