If you like to share photos on the Internet, what's to stop anyone who comes across them to grab copies and claim them as his or her own? The easiest way around that sticky issue is to add a watermark to them.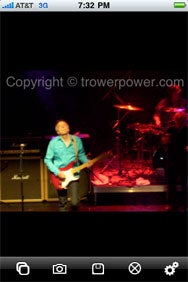 If you have Photoshop or some other image editor, watermarking's an easy enough task on a computer. But what about those times when you're snapping photos on your iPhone and want to immediately upload them to Flickr or TwitPic. PhotoMarkr by Imangi Studios can help. This $2 app makes it easy to watermark your photos, whether they're photos you've synched to your iPhone or iPod touch, photos on your photo roll, or even ones you take within the app.
The first time you launch PhotoMarkr, you'll want to go its settings and choose a watermark style—either text, image or both. (You can customize each type.) To apply a watermark, just launch the app, select a photo (or snap a new one), and tap on the watermark icon. You can then drag your watermark to the desired location, choose your transparency level and resize it, if necessary, by pinching and zooming. When you're finished, just tap on the Save icon to save a copy of the watermarked photo to your photo roll, all ready for uploading. It couldn't be much easier.
As nifty as PhotoMarkr is, there are a few improvements I would like to recommend: When I place both types of watermark on a photo, I would be great if I could adjust the transparency of each separately, so that the graphic watermark can be more subtle and the text watermark more prominent. Also, when moving a text watermark toward the edge of a photo, it will snap to the edge. While this can be useful at times, it's not always what I want. It would be nice to have an option to control this feature. Finally, I would like to have the ability to create a few different styles of watermarks to use.
One caveat… I noticed that photos I processed through PhotoMarkr lost their geo-location data. I contacted the developers who told me that this is a limitation of the iPhone's software development kit, and it affects all non-Apple photo-processing apps on the iPhone, not just PhotoMarkr. However, it only affects the copies you've watermarked in PhotoMarkr, not your original photos.
Despite these few shortcomings, PhotoMarkr is simple, effective and easy to use. If you like to share photos, and are more concerned about their proper attribution than with retaining their geo-location data, then you shouldn't do without this handy utility.
PhotoMarkr is compatible with the iPhone or iPod touch running the iPhone 2.2.1 software update or later.
[Brian Beam is a musician and one of those annoying people who shoots concert photos on his cell phone. He is also a partner with BOLD Internet Solutions, living somewhere near Kansas City.]