The Huffington Post, the left-leaning news and opinion site, is an honest-to-goodness new media powerhouse. What began in 2005 as a group blog for conservative-turned-liberal pundit Arianna Huffington's celebrity pals now attracts more than double the traffic Matt Drudge gets in any given month. More importantly, Huffington is attracting something no media company these days has: venture capital.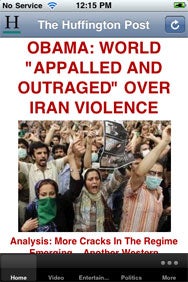 The HuffingtonPost.com app for the iPhone and iPod touch looks and feels a lot like the Web site, with its bold heads and lengthy sub-headlines. But the app suffers from a number of technical glitches that make it an unreliable mobile news companion, falling somewhere between the generally slick (if slow) news delivery of the New York Times app ( ) and the slapdash and clumsy effort of the Los Angeles Times ( ).
The HuffPo app delivers the same content for your handheld as you would find on the Web site, including videos and audio clips. Nothing is held back. Some of the graphics appear badly rendered, and the colorful headline type looks simply ridiculous on the smaller screen. In the app's blog section, one or two-word headlines appear next to mugshots without bylines or any other contextual information, which makes for a bizarre browsing experience.
Using the app for even a short while, it's hard not to get the impression that the Web site's content hasn't been optimized for a handheld device. I also noticed that the navigation buttons at the bottom of the screen seem to be invisible. A system 3.0 update programming glitch or nefarious Republican plot? Hard to say, though I'd lean toward the former. Also: You need a Wi-Fi, 3G, or EDGE connection to use the app, which doesn't support offline reading.
HuffPo is not as hip to the social networking scene as I would have expected. You can e-mail stories, and the app syncs with Facebook Connect, which is nice. But you cannot post to Twitter, which is not so nice.
Huffington is investing millions of dollars in investigative reporting, which is a laudable effort in economically troubled times. Perhaps she can throw a few grand extra to her app developers to make HuffPo for the iPhone a more enriching experience for her site's devoted readers on the go.
Huffington Post is compatible with any iPhone or iPod Touch running the iPhone 2.x software update or later, but may have compatibility problems with the 3.0 update, as of this writing.
[When he isn't reviewing iPhone apps, freelancer writer Ben Boychuk is co-writing a weekly column on politics for Scripps-Howard News Service in Rialto, CA. Feel free to e-mail him.]