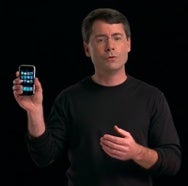 Bob Borchers. The name holds a special place in the heart of iPhone users everywhere, even if most of us were never quite sure how to pronounce it. Bob was the host of the original blockbuster iPhone Guided Tour video that burst on the scene in June 2007, as well as its sequel, iPhone 1.1.1, and was one of the more visible of the company employees, who are usually shrouded in, well, shrouds of secrecy.
But Bob, Bob is no more. No fear: he hasn't shuffled his way off this mortal coil, but he has departed Apple, where he'd served as senior director of worldwide iPhone product marketing for the last couple years. According to the Wall Street Journal, he's now off to work at venture firm Opus Capital where he'll be checking out "the range of white spaces in the mobile world." Uh. Yeah. That sounds, um, exciting.
To be fair, it's been a pretty busy—and likely stressful—couple years for Borchers, what with three major product launches, so maybe this is his way of kicking back and taking it easy. "It was kind of a no-brainer," were his words to the Journal. We'll miss you, Bob: your calm, reasoned tones; your vaguely Stephen Colbert-esque haircut; your soothing gestures. But at least we'll always have pinch-and-zoom.
[via Infinite Loop]