Last week, we surveyed Macworld's Twitter followers about their iPhone use. We asked a different question each day and then reported on the results:
Monday: " What four apps are in your iPhone's 'Dock'?"
Tuesday: " How many apps are on your iPhone?"
Wednesday: " How many apps do you have in iTunes?"
Thursday: " Now that the iPhone 3.0 software is out, what's your #1 missing software feature?"
Friday: "What hardware feature or accessory would you most like to see for the iPhone?"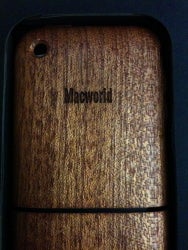 Today I cover the responses we received to Friday's question—238 valid ones in all, the lowest response rate of the week (hey, it was a Friday). On the other hand, the question also generated more humorous replies than any other. Some of the most entertaining suggestions include a flamethrower, a phaser, a laser-beam weapon that auto-targets BlackBerrys, a Silly String sprayer, a pregnancy tester, and an accessory for physically accosting the user that could be activated remotely. We also received a few ideas that, while scoring points for imagination, seem unlikely to be implemented in the next few years; for example, a direct link to your brain, and an accessory that lets the iPhone drive your car using a built-in navigation app.
We again picked a random respondent to receive a thank-you gift. Friday's schwag was a custom-made, Macworld-logo, iWood iPhone 3G case from Miniot. The recipient is @tdub1974, whose #1 hardware improvement would be a front-facing camera for video conferencing.
Keyboards and cameras, oh, my!
With a few exceptions, the requests for hardware improvements and accessories were diverse. Readers nominated over 65 different features, and that total would have been much higher had we not standardized the answers; for example, we coded "wireless proximity charging," "contactless charging," and "wireless charging within 30 feet" all as "wireless charging," and we bunched "Bluetooth keyboard," "external keyboard," and "portable keyboard" into "external keyboard."
We then combined those feature requests into 13 distinct categories; this gave us a pretty good idea of what areas of the iPhone's hardware our respondents most want to see improved, either via changes in the iPhone's own hardware or through add-on accessories. (As we mentioned several times last week, these surveys are obviously not scientific.)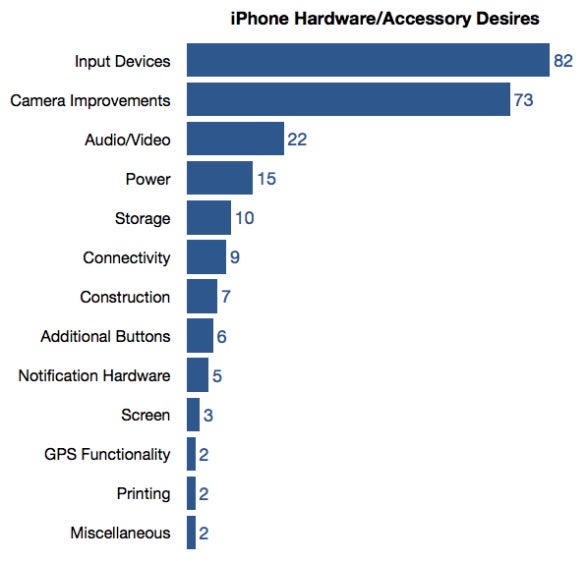 I have to admit that I was surprised to see input devices and camera improvements leaving everything else in the dust—65 percent of our respondents want new functionality in one of these two areas more than they do anything else. But just as interesting were the individual requests within the various categories:
Input Devices: A whopping 57 respondents specifically mentioned an external keyboard of some sort for typing longer documents on the go; 11 others are still holding out—in vain, I suspect—for a physical keyboard on the iPhone itself. Other input-device requests include a game controller (8 requests), health meters (heart rate, blood pressure, blood sugar, temperature, etc.; 4), a signature pad (1), and a business-card scanner (1).
Camera Improvements: Want a front-facing camera? So do 38 of our respondents, and 21 more want a flash or LED light for the existing camera; the other responses were an "improved" camera (8), an accessory for downloading photos from a digital camera to the iPhone's internal storage (2), a tripod mount or a case with a tripod mount (2), a camera mirror (1), and a zoom lens (1).
Audio/Video: A built-in FM transmitter was the biggest vote-getter, with five requests, followed closely by a better/louder built-in speaker (4), Bluetooth headphones included (2), an FM tuner (2), an HD Radio tuner (2), a VGA/USB "dock" accessory for connecting the iPhone to an external display and keyboard (2), and one request each for better stock headphones, an external Webcam, a video-projector add-on, a TV tuner, and video-out functionality for everything (not just for videos and photos).
Power: Not surprisingly, there were a number of votes for a better battery (7) and a replaceable battery (2). Other requests include wireless recharging (5) and an Apple-branded external battery pack (1).
Storage: Eight people want a memory-card slot for additional storage. Also requested: an adapter for connecting flash/thumb drives (1) and an iPhone dock with USB and FireWire ports and a memory-card slot (1).
Connectivity: Two people evidently feel their iPhone's wireless connection is a bottleneck, requesting 802.11n wireless; other responses were an infrared emitter for using the iPhone as a universal remote control (2), and one vote each for CDMA support, an Ethernet dock, a MIDI interface, more medical-device interfaces, and an ADB port. Yes, an ADB port.
Construction: Two people want a "tougher" design that can take more abuse; other requests include a metal back, a non-glossy back, a grippy finish, an oleophobic body, and colors.
Additional Buttons: We almost filed the number-one response here under "Camera Improvements": four people want physical buttons for the camera (4). Two others want hardware buttons for toggling WiFi or other settings.
Notification Hardware: All five respondents in this category want an LED for notifications, much like the blinking light on a BlackBerry.
Screen: Two people are hoping for an iPod with a larger screen; one other thinks Apple should switch the iPhone to an OLED screen.
GPS Functionality: Two respondents are anxious for TomTom's upcoming iPhone accessory/app combo for turn-by-turn driving directions.
Printing: Both respondents here are hoping for a printer that works with the iPhone—a request that will also require software support.
Miscellaneous: Two requests didn't fit anywhere else: a built-in LED flashlight, and an accessory for making calls through your car's radio that doesn't use Bluetooth.
I wasn't too surprised that an external keyboard was the number-one request overall; heck, several macworld editors are hoping for just such an accessory. But I was shocked by how many people want a front-facing camera for video chats. The good news for them is that it looks like Apple already has a patent on a front-facing iPhone camera; maybe we'll see that feature in the next iPhone model.
Stay tuned
We've had so much fun with our Twitter surveys that there's a good chance we'll be doing them again (and we may even have more Macworld schwag to give away to respondents). So be sure to follow @macworld on Twitter to participate.