MobileStudio originally carried the moniker of MobileFinder, which seems appropriate. After all, Pixio touts its $2 iPhone and iPod touch app as a strong file management, creation, and editing tool. And for power users, it delivers exactly that.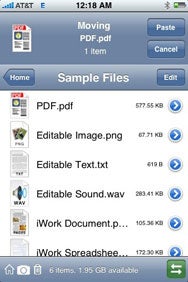 At its forefront, MobileStudio can organize and manage files. While there are five default folders for Documents, Movies, Music, Pictures, and Sample Files, you can also add and remove as many folders as you please. Folders also have a series of toggle switches that enable or disable many functions, making files readable, writable, and Executable.
One feature that sets MobileStudio apart from the rest of the file-management crowd is the app's advanced abilities for handling files. It can copy, move, or paste documents; you can also package or decompress zip archives from within the app.
A key aspect to MobileStudio is its ability to wirelessly move files to an iPhone or iPod touch from a a computer. You can access and transfer files in or out of MobileStudio by way of FTP through a client or web browser. This isn't as simple as other file-transfer apps that act as networked computers, but this method provides for compatibility across many platforms.
MobileStudio also lets you create files—text documents, images, and sound files are among the different types. Of course, MobileStudio can also open, edit, and view such files via numerous viewers, including a Properties viewer, media viewer, and web viewer. Text, images, and sound can be edited in their respective editors. Image editing and sound editing capabilities certainly aren't vast—image exporting and waveform viewing are about as good as it gets.
When all's said and done, MobileStudio is an excellent and powerful application for managing files. With more functionality than most people will need, it's not for the average user. But power users with a lot of file-management demands will find that MobileStudio fits the bill nicely.
MobileStudio is compatible with any iPhone or iPod touch running the iPhone 2.1 software update.
[ John Fuller is a freelance designer and writer from Texas.]