is finally available for the Mac, three months after having been announced. The software turns a whiteboard in a classroom or presentation room into an interactive teaching tool using the Mac. It combines hardware—a sensor bar and video projector paired to a standard whiteboard—and software.
The new release supports multimedia files, including Flash, MPEG-2 and MPEG-4 video; it also features an enhanced lesson gallery and a slimmer toolbar.—Peter Cohen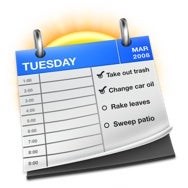 Today improves launch time, squashes bugs
Second Gear announced on Monday the release of Today 1.8, a maintenance update to its simple event and task-tracking application. The update resolves issues with earlier beta versions that improve compatibility with the forthcoming Mac OS X Snow Leopard, as well as patches other bugs. In addition, launch time has been improved and a French language localization has been added.
Today 1.8 requires Mac OS X 10.5.5 or higher and is a free update for all registered users of Today 1.x; a new license costs $15.—Dan Moren
Letter Opener update adds support for encrypted or signed messages
On Monday, restoroot.com announced the availability of Letter Opener 2.2. Letter Opener is a plug-in for Apple's Mail program that makes winmail.dat attachments readable. The 2.2 update adds a new converter for Outlook Reports as well as support for encrypted or signed messages that contain winmail.dat attachments.
Letter Opener costs €20 (approximately $28) for a new license, or €10 ($14) for customers upgrading from version 1.x. It requires Mac OS X 10.3 or higher.—DM