At a Glance
Expert's Rating
Pros
Good general color reproduction
Three shooting modes
Cons
Yellow cast in video shot with typical indoor lighting
Outdoor shots have blue cast
Zoom stutters
Poor video quality in lamplight
Our Verdict
When Kodak released the Zi6 ( ), its ease of use and very good video quality raised the bar and expectations for pocket HD camcorders. The Zx1, however, fails to reach that bar, with its video quality proving to be a letdown.
With its smaller size, the Zx1 (2.0 by 4.2 by 0.8 inches) is a lot more pocketable than the Zi6 (2.5 by 4.5 by 0.9 inches). From a distance, the Zx1 looks like a large mobile phone. Unlike the Zi6's plastic and rubber body, the Zx1 has a plastic front and a brushed metal back. Kodak says the Zx1 is "weather resistant," which means it can handle very light sprinkles of water and dirt. It's not waterproof nor is it water resistant, but you don't have to worry too much when shooting in, say, a light fog.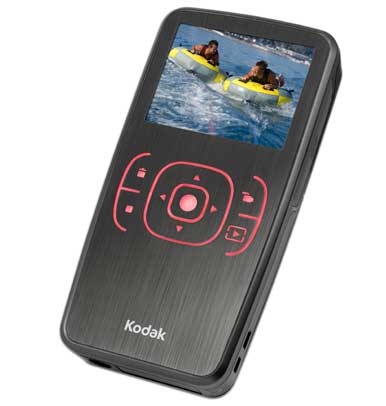 The Zx1's 2-inch LCD isn't as big as the Zi6's 2.4-inch LCD, but it's same size as the LCDs found on Pure Digital's Flip UltraHD ( ) and Creative Labs' Vado HD ( ). The LCD is bright enough to remain visible in direct sunlight, but it's hard to see if you're holding the Zx1 over your head or down low.
The camcorder's controls are found underneath the LCD and are about as easy to use as other pocket camcorders we've seen. The record button is at the center of four directional buttons that are used for the zoom (2x digital) and choosing a recording frame rate. Surrounding the directional buttons are a playback button, a recording mode button, a delete button, and a start/stop playback button.
Digital camcorders capture video data at a certain rate, which can affect the video quality, though it's not the only determining factor. The Zx1 has a data rate of 11.1 Megabits per second, which is high for a pocket camcorder and more than the Flip UltraHD (9.1 Mbps), Sanyo's Xacti VPC-CG10 ( ) (9.3 Mbps) and Zi6 (8.8 Mbps). Despite this high data rate, the Zx1 video quality wasn't as good as the three before-mentioned camcorders. Overall, the Zx1 has a too-blue tone outdoors and a too-yellow tone indoors, and in lamplight its images look terrible. Also, the Zx1's zoom stutters and it doesn't present a lot of detail.
The Zx1 offers three different shooting modes: 720p at 30 fps, 720p at 60 fps, and standard definition (640 by 480). Videos are saved in H.264 format to SD cards as .mov files, and we easily used the files in iMovie without a hitch. The Zx1 connects to your Mac via USB 2.0, but the camcorder doesn't have a built-in swing-out USB connector like the Zi6. Instead, the Zx1 comes with a cable to connect between the camcorder and your Mac.
Specifications
| | |
| --- | --- |
| Video-Capture Resolutions | 720p (60 fps), 720p (30 fps), 640×480 (30 fps) |
| Approximate Data Rate (in megabits per second) | 11.3 |
| Photo Stills | yes |
| Digital Zoom | 2x |
| LCD Size (in inches) | 2.0 |
| Storage | SD card (128MB internal) |
| File Format | H.264 (48KHz stereo) |
| TV Interface | HDMI, composite |
| Battery | 2 AA |
| Dimensions (HxWxD, in inches) | 4.2 x 2.0 _ 0.8 |
| Weight (ounces) | 3.5 |
| Warranty | 1 year |
Other Zx1 features include HDMI and composite outputs for connecting to a TV; rechragable AA batteries and a recharger; a tripod mount; and five color choices (black, blue, pink, red, and yellow). Kodak also sells a Pocket Video Remote Control for $10.
Macworld's buying advice
The pocket HD camcorder market is fiercely competitive, with great choices such as the Zi6, Flip UltraHD, and Xacti VPC-CG10. The Zx1 is more compact than those three devices, but its video quality leaves much to be desired. We recommend choosing one of those three camcorders over the Zx1.
[Chris Breen and Roman Loyola are Macworld senior editors.]