At a Glance
Expert's Rating
Pros
Easy top use controls
Offers 1080p video resolution
Good sound
Removable battery
Cons
No image stabilization or an external microphone jack
No HDMI output
Poor video quality
Zoom stutters
Our Verdict
It's hard to think about camcorders without thinking about Sony, whose standard-sized camcorders have a devoted following. So it's not surprising to see that Sony wants a piece of the pocket camcorder market, which is heating up. Sony's pocket camcorder entry, the Webbie MHS-PM1 offers a few features that make it unique among other similar products, but it unfortunately falters where it counts the most: video image quality.
About the same size as other candy bar-shaped pocket camcorders like Pure Digital's Flip UltraHD ( ) and MinoHD ( ), Creative Labs Vado HD ( ), and Kodak's Zi6 ( ), the Webbie has a 1.8-inch LCD, which is smaller than the LCDs on all the before mentioned camcorders except the Flip MinoHD. Despite the smallish LCD size, the display is clear and big enough to see when holding the Webbie at arm's length, as well as in bright sunlight.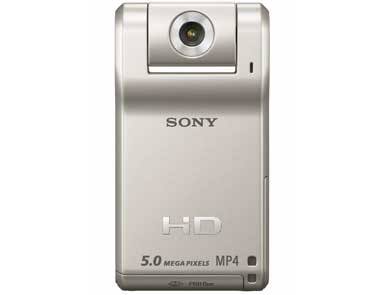 Usually, it's difficult to see the LCD on a candy bar-shaped camcorder when you want to shoot at an angle. The Webbie addresses this problem in an interesting way; it has a lens mounted on a rotating barrel at the top of the camera. The lens can rotate 270 degrees, so if you want to shoot in an upwards direction, all you have to do is rotate the lens up, and you can still see the LCD in a comfortable position. It's a cute gimmick, but it would have been more helpful if the rotation had a click, instead of moving smoothly, so you could tell when the lens is pointed straight ahead.
To record a movie, you push the movie button, situated on the right side, below the LCD. To its left is a photo button. A joystick button below allows you to navigate clips and pictures and adjust volume. A separate zoom toggle sits between the photo and movie buttons; instead of sliding in and out smoothly, we found that the zoom tends to stutter, which can make it difficult to zoom to the point you want. It's easy to access the controls with your thumb using either hand.
The Webbie, which uses a 1/2.5-inch CMOS imaging sensor, shoots 1080p, 720p, and standard definition video recorded in H.264 format. However, the Webbie uses a data rate—the amount of data captured in the resulting files—that's lower than other pocket camcorders. The Webbie captures data at a rate of 4 Mbps, lower than the Vado HD (4.3 Mbps), Flip UltraHD (9.1 Mbps), Flip MinoHD (10.5 Mbps), and Zx1 (11 Mbps). The Webbie's low data rate is reflected in how its movies look (though it's not the only factor that influences image quality).
To find out how well the Webbie handles different shooting conditions, we shot video outside in bright sunlight, inside in a sunlit room, and inside at night under lamplight. We also checked skin tones by filming a human subject. The Webbie's video was lifeless; colors were washed out, and indoor skin tones had a sickly green hue. On the other hand, we did like the Webbie's audio quality, which had good volume and fullness. The audio is monaural, not stereo.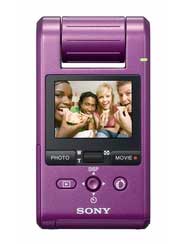 The Webbie connects to your Mac via USB 2.0, and we had no problems transferring video. The camcorder uses a Sony Memory Stick Pro Duo card, so you can also insert the card into a USB memory card reader attached to your Mac and transfer the videos. The Webbie also supports both composite and component video output, so you can connect the camcorder directly to a TV to watch your movies.
Like most pocket camcorders, the Webbie doesn't have image stabilization or an external microphone jack. The removable, rechargeable battery can only be changed using the included battery charger that plugs into the power outlet—the battery doesn't charge when you connect the camera via USB. The Webbie is available is three colors: eggplant, orange, and silver.
Macworld's buying advice
The Webbie MHS-PM1 is priced competitively compared with other pocket camcorders, and it has a nice design and is easy to use. But it's hard to overlook the disappointing image quality it produces, especially when compared to Flip UltraHD.
[Christopher Breen and Roman Loyola are Macworld senior editors.]
Note: When you purchase something after clicking links in our articles, we may earn a small commission. Read our affiliate link policy for more details.