At a Glance
Expert's Rating
Pros
Improved Index Cards and Scene Navigator
Full production rewrite support
Industry standard
Cross-platform compatibility
Cons
New file format not backwards compatible
Pagination can vary when exporting to different formats
Our Verdict
Hollywood may love remakes, but ticket buyers beware: it's often tough to tell whether you're about to see a modern reinvention of a tried-and true tale, or a timeless classic ruined. Thankfully, Final Draft 8 is a solid sequel to what has become the industry-standard screenwriting application, offering an updated interface, a handful of feature enhancements, and a new file format.
As a 15-year user of Final Draft, I'm fairly accustomed to the program's quirks and subtleties. I wasn't really looking for an upgrade. But even I appreciated some of version 8's feature refurbs and flourishes. For example, users who take advantage of Final Draft's ScriptNote feature to give and get feedback from other writers will appreciate the readily accessible ScriptNote navigation controls, transplanted to the toolbar at the top of the main screen.
Similarly, newbies no longer have to search the drop-down menus to update their title pages; a button on the toolbar makes it quick and easy. Likewise, the Split Panels controls, which make it easier to view your Index Card outline and actual script pages simultaneously in parallel panels, have been relocated to this same prime real estate.
Final Draft 8 is also a lot easier on the eyes—literally. The once frail and marginally legible onscreen Courier font has gotten a collagen injection, making it plumper and easier to read. And the Zoom feature now boasts twice the range (75 percent to 300 percent) of its predecessor, facilitating a better user experience with today's large widescreen monitors.
Final Draft's Index Card feature also gets a usability boost in version 8. The virtual index cards that are used for outlining and notes are now double-sided—one side displays scene notes and the other displays corresponding scene dialogue and description. Unfortunately, flipping the cards is a little clunky, as you have to select the appropriate Index Cards state in the View menu, which then flips all cards simultaneously. Though I really enjoyed the double-sided interface, I found myself wishing that I could just flip individual cards with a mouse click.
Also useful for story planning and evaluation is the newly added Scene View feature, which strips your script to its bare bones, displaying only slug lines, a little description, and page numbers. Most importantly, it lets you add a title to each scene, like "Hero Finds Amulet." The resulting view essentially becomes a high-level skeletal outline of your story–very handy.
Final Draft 8's Scene Navigator is a big improvement over previous versions' Navigator function. First off, it's now a floating palette, so you can leave it open all the time when you're writing and use it to quickly navigate to portions of your script in progress. In addition, it now provides a variety of scene information in table format, including scene start pages, scene page count, and color coding. How is this useful? Well, one might color-code scenes according to whether they represent the adventure A-story, the romance B-story, or the humorous C-story. Thanks to color coding in the Scene Navigator, a single glance helps you identify improperly interwoven stretches of story.
Also new to Final Draft 8 is the Scene Properties Inspector floating palette. Here you can add and edit additional scene information, including notes and scene titles, as well as more color coding. Personally, I use it as a mini "grocery list" to make sure that I don't forget any key ingredients of the scene when I'm writing.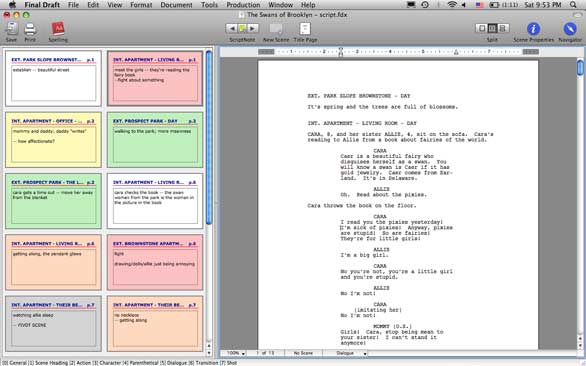 Perhaps Final Draft 8's most substantial change is its new XML-based .fdx file format, which allows Final Draft scripts to work seamlessly with a variety of third-party story planning, budgeting, scheduling, and storyboarding applications. The bad news: Previous versions of Final Draft are unable to open this new format. This could make it a little more complicated to script-swap with others who have not yet made the upgrade—which might irritate some users whose main reason for purchasing Final Draft was its universal, cross-platform compatibility.
The good news: Saving a script in the legacy .fdr format couldn't be easier. But be forewarned that page count and pagination can vary when bouncing between Final Draft 7 and Final Draft 8 formats, and that can be irksome when your lean 110-page comedy puts on a few pages.
Overall, I was very impressed by the stability and formatting consistency of Final Draft 8. It does what it's supposed to do, and it does it well. Veteran Final Draft users contemplating an upgrade can rest assured that all the bugs that plagued the release of version 7 didn't show up for the picnic this time around. During 10 days of testing, I experienced nary a crash or freeze.
Also welcome was Final Draft's continued commitment to multi-tiered customer support. In addition to e-mail support and live chat, Final Draft still provides 24/7 phone support, the first 20 minutes of which are free. Subsequent minutes will set you back a hefty $2.50 apiece, but when it's 3 a.m. and your deadline is first thing in the morning, it seems like a bargain.
Macworld's buying advice
Final Draft 8 is simpler than ever for beginning users; subtle feature fixes, bountiful script templates, and top-notch support for the production rewrite process ensure that an aspiring A-list writer won't quickly outgrow the software. But for existing users, the decision to upgrade may have less to do with new features than an increasing pressure to switch to the .fdx file format, which may follow in the footsteps of the .fdr format to become a new de facto industry standard.
[Tim Haddock is a writer and corporate communications professional living in rural Vermont.]