Systems management appliance maker Kace Networks on Tuesday plans to unveil changes to its Kbox product line that it says will create a true cross-platform environment for managing Mac and PC systems. The announced changes will let IT administrators manage Windows and Mac OS X machines from a single interface on a single appliance.
"Kbox has supported Macs for a while," said Lubos Parobek, vice president of product management for Kace. "But we really feel this release fills in the gaps and treats both [Mac and Windows] platforms in an equivalent fashion."
Kace's Kbox is an appliance used by enterprises to deploy software, manage assets, handle security and software patching, provide desktop support, and handle other system management tasks. With the planned changes to be rolled out in the next-generation of Kbox products, Parobek says Kace is offering full-fledged Mac support that "allows the Mac to be an equal citizen in the enterprise."
Specifically, the Kbox systems management and deployment appliances will offer Mac imaging through Kace's K-Imaging technology, which the company says eliminates redundant transfers when capturing, storing, and deploying disk images. The update also offers new software metering support, allowing IT administrators to meter Mac applications just as they would Windows software—a key component of analyzing how software is being used to better manage license fees.
Finally, Kace is also introducing enhanced policy-based configuration management for the Mac, so that admins can enforce desktop settings across a network with the push of a button. A scripting wizard lets admins create settings without having to know a programming language; with the assistance of pull-down menus, they can handle tasks such as setting screen-savers and enabling firewalls.
"We're filling out the feature set so that everything you can do on Windows, you can do on a Mac," Parobek said.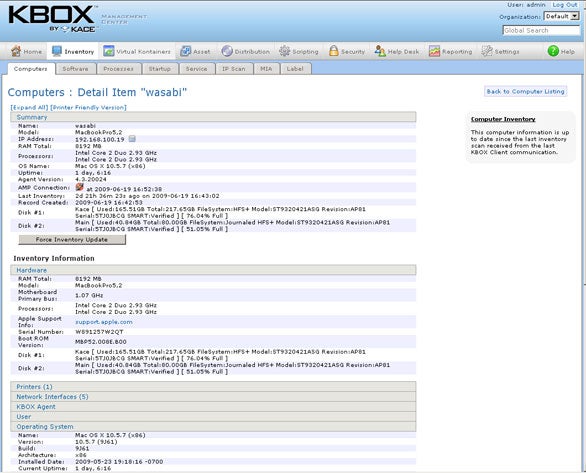 Kace expects to roll out the next-generation of its Kbox products in August. Prices for the Kbox Systems Management Appliance start at $9,900 while the Kbox Systems Deployment Appliance starts at $4,900.
Kace is boosting its Mac offerings in response to the growing presence of Macs in the enterprise. The company cites a December 2008 study by Information Technology Intelligence Corp. that found 68 percent of the 700 companies surveyed plan on letting end users to deploy Macs as their work systems in the next 12 months.
Parobek credits three factors for spurring the growth of the Mac among enterprise users. Because of the consumerization of IT, employees are starting to demand Macs on the job. "Employees try new technologies at home, find them productive, and want to use them at work," he said. At the same time, Vista has proven to be a hassle to deploy, causing IT administrators to look for alternatives.
Finally, Parobek said, "Apple is doing a good job of adding features that vendors need in the enterprise." Take Apple's forthcoming Snow Leopard update to OS X, which promises, among other features, to add support for Microsoft Exchange.