At a Glance
Expert's Rating
Pros
Multiple script view formats
Easy and precise alignment between video and audio columns
Cross-platform
Teleprompter "save as" feature
Cons
No support for incorporating images into scripts
Our Verdict
For years, documentary-style film and video makers have struggled to use jury-rigged tables within word processing programs to create the unique two-column scripts needed for planning documentaries, commercials, and corporate videos. Final Draft AV 2.5.2 aims to put a smile on those creative faces by taking over such time-consuming formatting duties so that filmmakers can focus their time where it matters—on content.
Warning: If you want to write Hollywood blockbusters, Final Draft AV 2.5 is not for you. Look instead at traditional screenwriting programs such as Final Draft ( ), Movie Magic Screenwriter ( ), and Montage ( ). Audio-visual (AV) scripts are a different beast, and the dialogue-heavy format of a movie script doesn't suit itself to planning mediums where video and audio are often captured separately. Enter the two-column script—video on the left, audio on the right.
For years, many of us who work in advertising or corporate video have relied on two-column Microsoft Word ( ) templates. Unfortunately, with this approach, as you change content in one column, the other column falls out of sync. As a result, a good chunk of the time you spend writing is devoted to the housekeeping tasks of formatting, inserting carriage returns, and adjusting the alignment between sound and video on the page. Final Draft AV 2.5 does much of this grunt work for you.
In addition, Final Draft AV's Rearrange feature makes script rework and paper edits easy. Just drag and drop the image description onto the audio description you want it to sync up with, and the Rearrange Guide Line provides an exact visual indication of where your changes will land.
Final Draft AV also enables users to instantly view and print scripts in three styles: Audio Visual, Radio, and Linear Script. While I find a two-column script to be a valuable planning tool, an actor or executive may find that level of detail to be too much. A simple radio-formatted script, featuring dialogue only, might be more useful in some situations. Being able to instantly generate multiple view formats without having to maintain and revise multiple documents is convenient, and it minimizes the opportunities for version control disasters. Equally useful is Final Draft AV 2.5's ability to save a document in a dialogue-only teleprompter format lickety-split.
One significant shortcoming of Final Draft AV is its inability to import images into a script, as can be done within Word. A high-powered ad agency type might tell you that pictures have no place in a script, but sometimes a picture really is worth a thousand words. And if dropping a JPEG of a PowerPoint graph into the video column helps with getting signoff on a corporate video script, who can argue? In my opinion, unwillingness to include this feature is a bit myopic on Final Draft's part and limits its potential user base.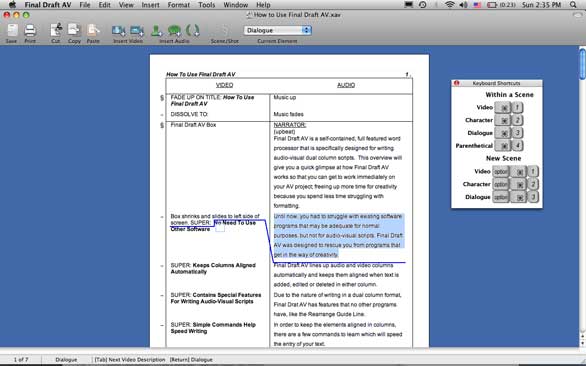 Final Draft AV 2.5 is Spotlight-compatible, and can export your script to Keynote, where you can add images to create storyboards.
Macworld's buying advice
Final Draft AV 2.5.2 eliminates many of the headaches of formatting two-column audio-visual scripts with a conventional word processor. Unfortunately, for some users the program's inability to import graphics and images into scripts could prove a deal-breaker.
[Tim Haddock is a writer and corporate communications professional living in rural Vermont.]