At a Glance
Expert's Rating
Pros
Easy to train
Supports IMAP and POP accounts
Excellent performance
Reasonably priced
Works directly within your e-mail application
Our Verdict
If you're looking for the best Mac-based anti-spam solution, look no further than C-Command's SpamSieve 2.7. The program offers highly accurate filtering, is relatively simple to install, and is amazingly easy to use, particularly with Apple Mail.
Price When Reviewed
$30 single user; $48 family or 2 users; site licenses available
Best Prices Today: SpamSieve
If you're looking for the best Mac-based anti-spam solution, look no further than C-Command's SpamSieve 2.7.4. The program's filtering is highly accurate, it's relatively simple to install, and it's amazingly easy to use, particularly with Apple Mail.
SpamSieve works with a number of mail programs, including Mail ( ), Microsoft Entourage ( ), Qualcomm's Eudora, Gyaz Square's GyazMail ( ), Bare Bones Software's Mailsmith ( ), Mozilla's Thunderbird ( ), and CTM Development's PowerMail ( ).
SpamSieve's setup isn't automatic, but it isn't overly complicated, either. Regardless of which mail program you're using, you first launch the SpamSieve application. Once the program is running, you can install either a plug-in (Mail, Eudora, Thunderbird) or AppleScripts (Entourage) directly from the SpamSieve menu. (If you're using one of the other supported programs, installation instructions are found in SpamSieve's manual.) SpamSieve works with both POP and IMAP accounts, and doesn't require you to customize your account settings, unlike some of the other anti-spam tools.
After installing the plug-in, you'll want to refer to the manual to find out what's required to customize your mail client. In Mail, you need to create one simple rule, and disable the built-in Junk mail filtering. In Entourage, you need to create two rules; the other supported clients have varying setup requirements. The manual does a good job of walking you through the setup process, and screenshots make it easy to follow the instructions.
After setup is complete, you should get started by training SpamSieve with an assortment of both spam and non-spam (ham) messages. You train the program by selecting a number of messages and then using an entry in the Message menu (Mail) or an AppleScript menu (Entourage) to train those messages as spam or ham (a general reference to valid e-mail). SpamSieve suggests using a ratio of 65 percent spam to 35 percent ham for best results. Because you can train SpamSieve en masse with existing messages, the program can do an excellent job of filtering almost from the minute you install it.
SpamSieve uses a combination of methods to filter junk mail. A Bayesian filter analyzes incoming messages to determine whether they're spam or ham. There's also a blacklist (messages that are deemed junk automatically; SpamSieve calls it a blocklist) and a whitelist (messages that are deemed good automatically), and you can add and remove entries from these two lists if you wish. Senders in your Address Book, as well as those on messages you don't mark as spam, are automatically placed on the whitelist.
SpamSieve's preferences are simple; a Filters tab lets you fine tune (or disable, if you wish) the operation of the filters, and the Notification tab lets you change how SpamSieve notifies you of its activities, with support for Growl ([[3.5 mice]]) included. The Training tab lets you change how SpamSieve learns about spam and ham. The Advanced tab controls SpamSieve's overall strategy—a slider lets you select any point between conservative and aggressive; I left the slider in the middle, and found it produced excellent results.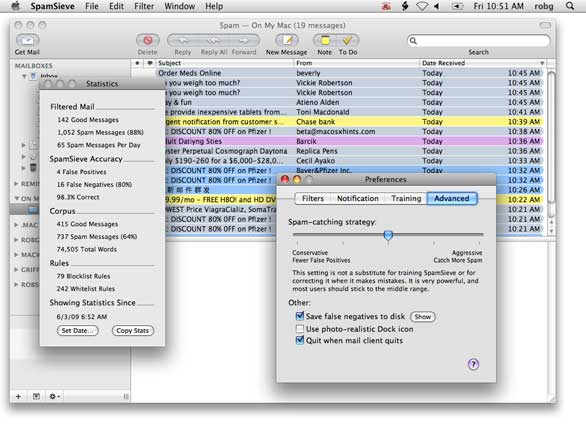 SpamSieve includes keyboard shortcuts for marking messages as spam or ham—select the message (in Mail or Entourage) and press control-command-S to mark it as spam, and control-command-G to mark it as good. Messages marked as spam are moved into a Spam folder, but they don't need to stay there—the program has learned all it needs to know once the message is marked as spam, so you can delete them immediately after marking, if you wish.
The measure of any spam filter is in its effectiveness, especially with false positives—messages marked as spam when they're really ham. After my initial training, SpamSieve did a very good job with both spam and ham. While handling over 5,000 messages, only four legitimate messages were marked as spam; roughly a dozen messages escaped the filter and had to be manually tagged. Most of these, however, were early on in my time with the program; as its filters improved, the amount of spam that made it through the filter was basically zero.
Macworld's buying advice
At $30—either per computer or per person, which is ideal if you have more than one machine—SpamSieve 2.7.4 is fairly priced, and does an amazingly good job. If your ISP doesn't do an effective job at blocking spam, SpamSieve will take care of the problem.
[Rob Griffiths is a Macworld senior editor.]
Best Prices Today: SpamSieve