Editor's Note: The following article is reprinted from the Game On blog at PCWorld.com.
Upcoming real-time strategy Mac and Windows game StarCraft II will ship without Local Area Network multiplayer support in an effort to combat piracy, says Blizzard, in an official statement sure to annoy if not outright confound series fans the world round. Calling it a "difficult decision," Blizzard's Bob Colayco reportedly told Joystiq that "moving away from LAN play and directing players to our upgraded Battle.net service was the best option to ensure a quality multiplayer experience with StarCraft II and safeguard against piracy."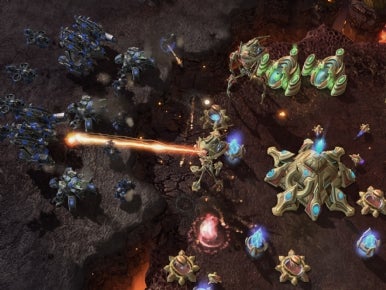 Uh-oh, did someone just invoke the 'p' word? And is Blizzard serious? No more LAN parties? Every potential customer has internet as fast and dependable as they're apparently dishing out in Irvine, Calif.? Running crossover Ethernet cables between PCs is officially passé?
Hey Blizzard, what about those of us who still routinely take our gaming laptops with us on weekend trips to remote locales that lack internet access? Show of hands: Who wants to play head-to-head with friends or relatives in a low-speed internet setting? Even a high-speed internet setting prone to hiccups? And what about all the folks running brick and mortar game competitions, hosting tournaments with locally networked PCs, where fast and steady communication is essential?
According to Colayco, Battle.net features like "advanced communication options, achievements, stat-tracking, and more" will require players to be connected to the service.
Okay. Fine. If we want those "advanced" options (whatever they are) or achievements or stat-tracking, then we'll go online. That's fair. That's what Battle.net offers. But if we're not interested, we shouldn't be penalized for preferring the speed and stability and locational flexibility of local peer-to-peer play, should we?
What do you think?
For more gaming news and opinion, point your tweet-readers at twitter.com/game_on.