Cooliris, the visually-enthralling free browser plug-in that allows you to navigate through online photos and video via a 3-D image wall, has been updated to version 1.1.1. New to this version is support for displaying Cooliris within tabbed windows, sharable URLs, and greater support for Flickr information and MySpace content.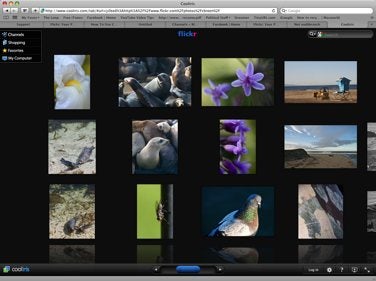 At one time Cooliris completely took over your computer screen with its wall of images and movies. While this was a beautiful way to view this content, Cooliris blocked access to other content. With version 1.1.1 you can now invoke Cooliris within a tabbed window and have multiple instances of it running in different tabs—your Flickr page in one tab, Cooliris' main browser in another, and an Amazon.com search in another. If you prefer to browse the Web in a not-so-visual way, simply navigate away from a Cooliris tab or open a new tab.
Cooliris windows now bear URLs, which allow you to set one as a home page, bookmark pages so you can later return to view their contents, and share the contents of a Cooliris page by sending its URL to a friend. Additionally, when you view the contents of a Flickr page you see more information—title, author, description, and tags. With MySpace images you can view any page of a content wall.
Cooliris is compatible with Firefox (Windows XP/Vista, Mac, and Linux). Internet Explorer. and Safari (Mac).