Users who turn to Cadent Computing's wineCellar to log and organize their wine collection will now be able sync entries via a new synchronization service added in the latest update. wineCellar 2.0 introduces Cadent Cloud, a service that lets the app sync up to 500 wines to a cloud where they can be viewed through either a standard Web site or a site for mobile devices.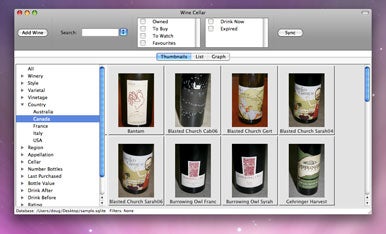 Cadent says that both of the Web sites use https, the secure sockets layer, to keep login credentials and data private. The mobile-enhanced site is accessible from any device which support https connections, which includes the iPhone, as well as other smartphones such as the Palm Pre.
wineCellar users can store up to 2,000 entires in the application, though a free 30-day trial lets you store 100 wines (though without access to the new Cadent Cloud service). The software, which runs on Mac OS X 10.4 and later, costs $25; it's a free upgrade for wineCellar 1.x users.—Philip Michaels
Typinator speeds up core funtionality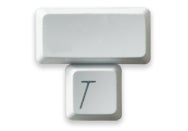 Ergonis Software released Typinator 3.5 on Thursday. The latest version of the text-expansion tool incorporates a new technology to speed up the program's core functionality of text expansion and insertion as well as improve compatibility with third-party applications (the new technology requires Mac OS X 10.5.5 or later). Also included are support for custom user sounds, a workaround for a bug in Mail, and a number of other minor enhancements and bug fixes.
Typinator 3.5 requires Mac OS X 10.4 or later, and costs $20 for a single license; version 3.5 is a free update for all customers who have purchased Typinator in the last two years.—Dan Moren
Clipstart adds YouTube upload support and ability to import iPhone 3GS videos
, an update to the video import and cataloging program, was released by Riverfold Software on Tuesday. Version 1.1 adds much-requested support for uploading videos to popular sharing site YouTube, the ability to import videos from the iPhone 3GS, better tracking of moved or renamed video files, the ability to move the video library to an external drive, and a number of other minor enhancements and bug fixes.
Clipstart 1.1 costs $29 for a single user license and $59 for a family pack of five licenses. The software requires Mac OS X 10.5 or later and runs on Intel or PowerPC processors.—DM
Dictate adds Safari 4 support
MacSpeech has released Dictate 1.5.2, a new version of its speech recognition software for the Mac. A maintenance release, version 1.5.2 fixes reported issues and adds support for Safari 4, the latest version of Apple's Web browser.
It's a free update for registered users; Dictate costs $199. System requirements call for Mac OS X 10.5.6 or later.—Peter Cohen
Elemental Accelerator speeds up Premiere encoding with Quadro FX 4800 cards
Nvidia has announced the release of Elemental Accelerator 1.2 for Mac OS X. The software enables Mac Pros equipped with Quadro FX 4800 graphics cards to accelerate the rendering of H.264 video produced by Adobe Premiere CS4. The software, developed by Elemental Technologies, is normally priced at $499, but costs $250 when purchased through Nvidia's Web site (Nvidia is currently have problems with its site, and still lists the price at $499).—PC