Hot on the heels of the release of Safari 4 comes the final version of Mozilla's Firefox 3.5. Originally slated to be a ".1" increment to Firefox 3, the number of improvements slated for this release earned it a bump to a full ".5" upgrade. When compared to the changes from Safari 3 to Safari 4, however, it seems Mozilla could just have easily named this one Firefox 4, as there are a multitude of new and improved features.
Surf faster
One of the more-touted new features is speed—it seems we browser users can never have enough. Running the SunSpider JavaScript benchmark, Mozilla claims that Firefox 3.5 is more than twice as fast (at that particular benchmark) than was Firefox 3. There have also been improvements made to the rendering engine, designed to help display Web pages more quickly than did Firefox 3. Finally, Firefox 3.5 also requires less real memory to run, and manages that memory better while in use, so it should load more quickly and not bog down as much over time.
I ran my own simple SunSpider benchmarks, not optimizing or controlling anything, and my results (on my 2.66GHz Mac Pro) back Mozilla's claims. My results were more than two times faster in Firefox 3.5 than in Firefox 3—1103.6 for Firefox 3.5 versus 2742.6 in Firefox 3. (In these tests, lower is faster.) Safari 4, though, is still the SunSpider speed champ, clocking in at 590.2 on my Mac Pro.
You'll see more benefit from these improvements on newer hardware—running the same test on my ancient-but-beloved PowerBook G4 (1.25GHz, 768MB RAM) showed only about a 10-percent difference between the two Firefox releases, and Safari 4 was then only about 10 percent faster than Firefox 3.5.
I haven't used Firefox 3.5 long enough yet to comment on the memory usage and rendering improvements, but there's no doubt it's a snappy browser. Then again, I never had any real complaints about the prior version of Firefox. More time is needed with the browser to see how much improvement has been made in these areas.
Surf securely
For those who use public computers, or otherwise wish to keep their browsing habits confidential, Firefox 3.5 includes a new private browsing mode. When enabled (via the Tools -> Start Private Browsing menu item). One nice touch here is that when you enter private browsing mode, Firefox will store all of your open windows and tabs, then make them vanish while presenting a new blank browser window. When you exit private browsing mode, Firefox will restore your saved windows and tabs. When in private browsing mode, Firefox won't retain a record of visited pages, form or search bar entries, passwords, downloaded files, cookies, or web cache files. You can still create bookmarks, and these will be retained when exiting private browsing mode.
There are other privacy-related enhancements, including the ability (when viewing history) to "forget" a site, which will erase all record of your visit to that site from the browser. Instead of clearing all your history, you can choose to clear recent history, which lets you pick the time range to clear, including the last hour, two hours, four hours, all of the current day, or everything. You can also specify which bits of history you'd like to clear.
Surf by location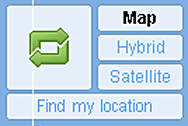 One of the more interesting features in Firefox 3.5 is location-aware browsing. This optional feature lets Firefox provide your location to location-aware web sites, such as Flickr's map. When run in Firefox 3.5, the key area of the map includes a button labeled Location. Click it, and Firefox will ask you if it's OK to share your location with Flickr. If you approve, Firefox will try to determine your location.
To find out where you are, Firefox uses both your IP address and the location of nearby wireless access points to determine your location. (The iPhone and iPod touch also use wireless access points as one method of determining location.) I was only able to test from home, and it worked quite well from here (on Flickr's map page). As more Web sites become location-aware, I believe this feature will become even more useful. (Opera also offers location-aware browsing.)
Other changes
Behind the scenes, there are myriad changes designed to improve your browsing experience. In addition to the already-noted changes to the page rendering engine, Firefox 3.5 supports downloadable fonts, and HTML 5's local storage, offline applications, and the new audio and video elements that make it much simpler to include audio and video on a Web page. There's much more for developers, if you're interested in the nitty-gritty details.
There are, of course, numerous small improvements. The awesome bar—Mozilla's name for the browser's location bar—is now awesomer (more awesome?). Tab handling has been improved, and now features Safari-like abilities to drag-and-drop tabs on and off the tab bar, and to rearrange them by dragging. Session restore can now recover even the text in a web form you were typing in when your machine or Firefox unexpectedly quit. Firefox is now available in more than 70 languages, and there are another dozen or so in beta.
While I doubt any of these changes will be enough to sway someone set on their current browser to make the switch, the changes do bring tangible improvements to Firefox, and add some welcome new features. Macworld will have a full review of Firefox 3.5 soon.
[It seems like only a year ago that senior editor Rob Griffiths was taking Firefox 3 out for a spin.]