At a Glance
Expert's Rating
Pros
Reduced power consumption and heat output
1U server sees substantial performance improvement over prior generations
Cons
Incomplete Lights-Out Management
SAS drives are sourced from a third-party vendor
No choices of video card
Leopard Server cannot utilize server's full RAM capacity
No warranty uplift available for SAS drives
Our Verdict
Let's face it: Apple makes only one rackmount server, and upgrades to it come and go with Intel's processor life cycles. This reality occasionally makes it hard to get excited about a new Xserve, but the 2009 edition warrants notice: this server is undeniably faster than the previous generation, uses less power, and exudes less heat. I've reviewed all three iterations of the Intel-based Xserve; that combination doesn't happen very often.
Configurations and upgrades
The new Xserve's base configuration, which sells for $2,999, includes a single quad-core 2.26GHz Xeon processor, 3GB of 1066MHz DDR3 memory, and a single 160GB, 7,200 rpm SATA hard drive. The expansion slots are now 16x PCI Express 2.0, up from 8x in the last Xserve; one slot accommodates 6.6-inch cards, the other 9.25-inch. A SuperDrive is standard, as are two Gigabit Ethernet ports, two FireWire 800 ports, a DB-9 serial port, and three high-speed USB 2.0 ports; one of the USB ports is on the server's front panel.
Available upgrades include two Xeon processors at 2.26GHz, 2.66GHz, or 2.93GHz; up to 12GB of 1066MHz DDR3 RAM on single-processor models (24GB on dual-processor configurations); a second power supply; and a variety of Ethernet and Fiber Channel controllers. The Xserve holds up to three 3.5-inch disks, in either SAS or SATA varieties. A new 128GB solid-state disk (SSD) is available as a $500 option. All Xserves include an unlimited-user copy of Mac OS X Server.
The optional RAID card has been upgraded with a faster processor and 512MB of RAM (up from last year's 256MB). The upgraded RAID card is specific to the 2009 Xserve, and cannot be retrofitted to an earlier model.
For this review, Apple provided a unit with two quad-core 2.26GHz Xeon processors, 12GB of RAM, a 128GB solid-state disk, three 1TB SATA disks, the optional RAID card, and two power supplies. This configuration retails for $6,249. (By comparison, the 2008 review unit had 3GHz processors, 8GB of RAM, three 1TB SATA disks, the RAID card, and two power supplies, for a retail price of $8,999.)
Architectural improvements
Today's Xserve uses Intel's newest 5500 series Xeon processors, code-named Nehalem. This generation integrates the memory controller onto the processor die itself, and each processor contains 8MB of L3 cache; the cache is shared among the processor's four cores. The memory controller uses three-channel interleaving to achieve faster I/O when DIMM slots are filled in sets of three. Nehalem allows DIMM installations in sets of one, two, or three, with varying optimizations for memory density or speed; vendors such as Dell or HP expose this matrix to the customer, but Apple simplifies things by only shipping combinations using matched sets of three DIMMs, for maximum performance.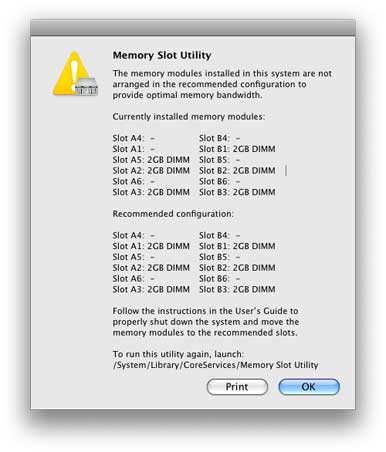 Six DIMM slots are available to each processor, for a total of 12 slots in an eight-core Xserve. (If you add or change memory later, the Memory Configuration Utility automatically launches after boot and indicates whether your RAM is optimally installed. The utility is stored in the /System/Library/Core Services directory and can be launched manually.)
It's worth noting that Mac OS X Leopard cannot fully utilize the new Xserve's memory capacity. Where Leopard can only use 32GB of RAM, an eight-core Xserve can hold a theoretical maximum 48GB (if populated with 4GB DIMMs in all 12 slots). Further, as Apple only sells RAM configurations using matched sets of three DIMMs, 12GB per processor is the largest configuration available from the factory: 4GB DIMMs in three slots, or 24GB on a dual-processor Xserve. If you need an Xserve with more than 24GB of RAM, I recommend waiting until after Snow Leopard Server is available, as it will address up to 16TB of RAM.
Remote frustrations
Apple's Lights-Out Management (LOM) is on its third revision, and is still disappointing. The 2009 edition advertises itself via Bonjour, making it easier to discover and monitor Xserves with Server Monitor. However, the LOM still piggybacks on a service Ethernet connector, still lacks shell access to Mac OS X Server, and still lacks KVM-over-IP functionality. Given that Lights-Out Management enables privileged access on a secure network, it would be very convenient if an administrator could use the LOM to obtain shell access or control the Xserve via Screen Sharing. These features have been available on competing servers from HP, Sun, and Dell for years. Instead, these functions may only be accessed from within Mac OS X Server, on a service IP network.
With Apple's implementation, administrators must dedicate multiple IP addresses on different networks, and employ either VLAN or firewall trickery to secure the network ports used for administrative access. Were these ports accessible from the LOM on a secure administrative network, an administrator could just connect to the LOM and have full control in a secure manner. In today's marketplace, Apple's LOM is sadly incomplete.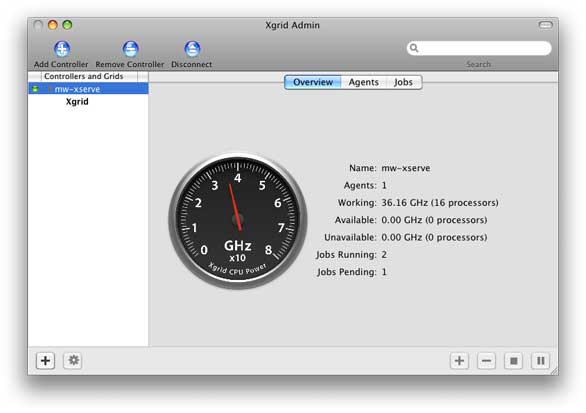 Testing performance and power
Intel's Nehalem architecture provides a substantial increase in performance, despite a slower clock speed than previous models. Here's why: Turbo Boost allows the processor to disable idle cores while running a busy core at a higher-than-normal speed. Hyper-threading technology allows a core to execute two threads simultaneously; each core presents itself to the OS as two virtual cores, and thus Mac OS X Server treats an 8-core Xserve as though it has 16 cores. Taken together, these features enable single-threaded applications to run faster than expected, and multi-threaded applications can aggressively scale out to take advantage of parallel processing.
I tested the 2009 Xserve's performance against an available 2008-model Xserve. The 2008 model uses 2.8GHz Harpertown Xeon processors and lacks the SSD, but is otherwise identical. To test their relative performance, I constructed a Podcast Producer workflow with 15 concurrent encode tasks, then submitted multiple jobs using the same workflow; each server was thus oversubscribed beyond its processing capacity. Despite a 24 percent disadvantage in clock speed, the 2009 Xserve finished 44 percent faster. I measured both servers' power consumption at the plug: the 2009 Xserve uses 25 percent less power when idle, and 10 percent less at peak load. Likewise, the new model's exhaust air is 30 percent cooler at peak load; the new Xserve measured 90 degrees, compared to 115 degrees (Fahrenheit) on the previous Harpertown model. Performance per watt has been a marketing mantra for the last few years, but rarely have we seen such a dramatic increase in real-world performance, paired with a concurrent decline in power use and heat, as we do with the new Xserve.
Video card dilemma
The Xserve has always occupied two disparate worlds: video editing and the data center. This duality leads to suboptimal compromises for both audiences, as exemplified by the included Nvidia GeForce GT120 video card. While this card is the same as the one in a Mac Pro ( ), its 256MB of video RAM is half that of its desktop counterpart. Apple says the GT120 card is sufficient to run their pro apps, such as Final Cut Pro ( ) or Aperture ( ), and can drive two 30-inch displays ( ), but video users may well wish for a high-performance GPU. (Apple doesn't offer an alternative graphics card option for the Xserve as it does for the Mac Pro.)
At the same time, the video card is over-engineered and overpriced for typical data center needs, where only simple 2-D video is necessary. Likewise, the Mini DisplayPort connector frustrates data center operators, as a dongle is necessary to attach to a KVM switch. (The Xserve uses the same Mini DisplayPort adapters as other Macs, in VGA and DVI varieties; unlike past Xserves, adapters are not included, and must be purchased separately.) The Xserve still does not have a video connector on the front, as is commonplace on other vendors' rackmount servers.
Storage options
The optional solid-state drive, commonly known as an SSD, does not occupy a drive slot, but is tucked inside the Xserve itself. SSDs offer excellent performance for random read operations, such as booting an OS or launching applications. Due to write-aging (a phenomenon endemic to all SSDs whereby their performance declines over time as blocks are written and rewritten several times), Apple recommends using the SSD as a boot drive, where write activity will be restricted to logs, virtual memory (swap), and lightweight housekeeping duties. If your Xserve accesses storage on a SAN or NAS, the SSD offers the enticing vision of a server without moving parts.
Long-time Xserve customers may be confused when configuring disks for their new Xserve: Unlike the prior two generations, with the new Xserve SAS (serial attached SCSI) drives are no longer listed among the configuration options. Indeed, Apple does not sell Apple-branded SAS disks for the new Xserve; customers who need SAS disks must instead purchase Promise-branded SAS disks in the Apple Store or from an Apple reseller. (Promise's SAS disks are available for both the Xserve and the Mac Pro, packaged in the drive carriers used by those respective computers.) These disks are not available as configure-to-order options, but as accessories that arrive in separate boxes and must be installed by the customer.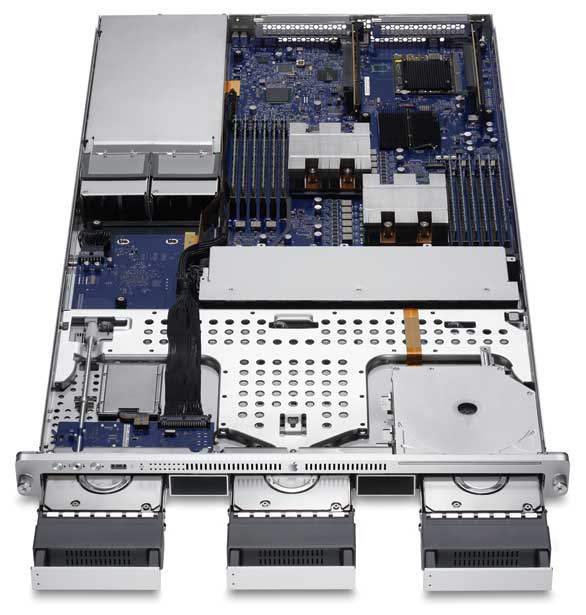 Apple says that Promise's SAS disks are a "natural fit" for the Xserve, considering the companies' existing partnership on the VTrak RAID system. That may be the case for Apple, but this bifurcated strategy leaves the customer on muddy ground. Apple's marketing discusses the Xserve's use of either SATA or SAS disks, describing how the server can use either type, and its Web site offers performance metrics using both architectures; only the fine print mentions that the SAS drives come from a different manufacturer.
Apple's warranty, including the three-year warranty uplift provided by the AppleCare Premium Service and Support Plan, covers only Apple-branded SATA disks. The Promise SAS disks carry a one-year warranty, and all warranty service or replacement of the SAS disks is performed by Promise. However, Promise does not currently offer any warranty uplift options for individual SAS drives; customers who order Promise SAS drives have no way to protect their investment beyond the default warranty.
In past generations, the Xserve stood out because it included everything you might need in the box with the initial purchase. It's bad enough that Apple no longer includes video adapters; foisting third-party SAS disks without a warranty uplift option is unconscionable.
Macworld's buying advice
Xserve's performance enhancements and improved power and heat efficiency combine for a compelling upgrade over previous models. Given that Leopard Server can't fully utilize the hardware's memory capacity, anyone who plans to use large amounts of RAM might want to wait until Snow Leopard is available this fall. Anyone who needs SAS disks and a long-term warranty should look to external storage solutions. For the rest of us, the 2009 Xserve is that rare upgrade that delivers on all fronts.