Ambrosia has announced the release of Soundboard, a new audio playback tool for live performances, podcasts, broadcasts and more. It costs $29, and a demo is available for download.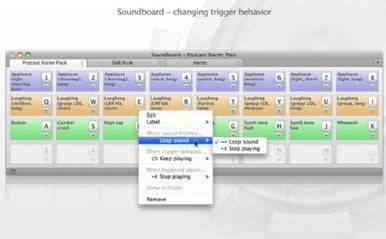 The concept of Soundboard is similar to the "cart machines" that once populated radio stations — devices that played back endless-loop tape cartridges used to play commercials, sound effects and other audio content. You can create libraries of audio clips using Soundboard, then trigger the effects by tapping hot keys on your Mac's keyboard. You can drag in any audio file your Mac can play.
Soundboard includes editing tools, and lets you apply effects or filters. Imported sounds are converted to Apple Lossless format to retain high fidelity and ensure instant playback. Soundboard can also be controlled using MIDI devices, with effects like panning and gain possible as well.
System requirements call for Mac OS X 10.5 or later, G4/1.25GHz or faster (including Intel) and 1GB RAM.
A 25 percent discount is also available for owners of WireTap Studio and WireTap Anywhere, two audio utilities also produced by Ambrosia.