2XL Supercross from 2XL Games is a motocross racing game for the iPhone and iPod touch full of high flying jumps and mud-slinging competition sure to get motocross fans' adrenaline pumping. 2XL Games has plenty of experience developing racing games for the PC, XBox, and Playstation, and that track record really shows in this App Store release.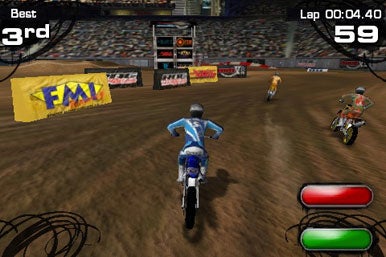 The $8 2XL Supercross has three game play modes consisting of practice, time trials, and racing. While racing around, you can choose from four camera angles ranging from third person to first person. There are 12 different indoor tracks to race on, many of which are unlocked by winning races. Each of the race tracks were designed by motocross champ Stephane Roncada and are really nicely laid out with plenty of ramps, moguls, and sharp turns. It would have been nice if there were a few outdoor tracks as well, though.
The stadiums are packed with crowds of cheering and jeering fans who are quick to let you know how well you're doing—adding to the satisfaction of a huge jump or the burn of a wicked crash. Taking first place is no easy task against the field of pro riders, especially in the game's hard mode, so you may want to brush up your skills with a few practice runs first. (Or try the free lite version of 2XL Supercross, which limits you to a single track and a 450cc bike.)
You can choose from several different bikes to ride and riders to play—beyond just looking different, though, they're otherwise undistinguishable. All the riders and bikes are greatly detailed along with everything else in this game.
The high-end graphics in 2XL Supercross make it one of the best-looking racing games for the iPhone and iPod touch. In fact, everything about this game is visually pleasing, right down to the menus and logo.
2XL Games doesn't skimp on audio, either. The roaring crowds, the super realistic sounds of the engine whining, and the crash of your bike smashing into the ground with your rider grunting in pain definitely add to the experience.
2XL Supercross boasts a lot of possible control options ranging from tilt control to all touch control, as well as many variations combining the two. All of these options can be tweaked to your liking, with settings for sensitivity. I found myself really preferring the tilt controls, as they were all spot on and accurate. Tilting the device left or right in the air make you whip your back tire to the side and tilting forward into a jump then back in the air will produce a back flip. These trick are cool but I found myself wishing that there were more like the Superman or some of the other death defying tricks you see motocross stars doing on TV.
One other thing I found lacking in this game was some sort of a career mode. Basically the only goal is to place in races and unlock other tracks. It would make for a better game if throughout your career you could unlock better bikes or gear to increase your stats or even learn a few new tricks. In the absence of any of this, the game feels a little hollow.
Don't get me wrong—2XL Supercross is good game. It just could have been a really great game with a little more in-depth playing modes. Even though it leaves me wishing for a little bit more, 2XL Supercross excels in many areas; it's definitely a fun and entertaining game to have in your pocket.
2XL Supercross is compatible with any iPhone or iPod touch running the iPhone 2.2 software update.
[Tim Mercer is a technology enthusiast, graphic designer, and blogger, whose blog, digital-artist-toolbox.com, offers free resources to the digital artist and graphic designer.]