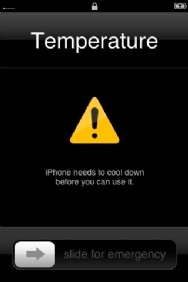 They say the iPhone 3GS is hot. Hot as in sexy. Hot as in selling like cakes that are hot. Hot as in "scorch the skin off your face Raiders of the Ark-style."
Well, two out of three ain't bad.
But while some would have you believe that Apple has admitted its new flagship device contains its own internal furnace, the truth is there's nothing new under the devastating heat rays of the sun. Several reports pointed to a Apple tech support document about keeping the iPhone 3G and 3GS "within acceptable operating temperatures" and concluded triumphantly that Apple was aware its devices could be used as tanning beds.
But this document isn't new—in fact, our own Aayush Arya wrote about it back in May, in regards to dealing with the iPhone in the scorching heat of New Delhi. Apple has merely updated the tech note to cover the 3GS as well. Overheating on the iPhone goes back even farther than that, too: I ran into heat issues and decreased battery life back on my original iPhone in 2007.
Heat is the enemy—it's one of the most rudimentary facts of technology. All that work your computer, your phone, even your iPod is doing, it all generates heat. Some versions of the Power Mac G5 famously ran so hot they needed their own liquid-cooling system. Faster processors tend to give off more heat than slower processors, so given that the 3GS has, by all accounts, a chip that's 50 percent speedier than its predecessor—but contained in roughly the same space—it's no surprise it's going to get a little toastier.
Apple's own advice mostly covers extreme situations like leaving your phone unattended in a hot car, but come on: leaving anything unattended in a hot car is generally a bad idea—ice cream, for example. If you're really concerned, check out our tips for keeping your iPhone chilled out, which—if you'll pardon the expression—boil down to these key factors:
Don't use excessively intensive iPhone features such as GPS or music on hot days, in direct sunlight, or in a hot car.
Return the phone to the Home screen when you're not using it to ensure that no application is running.
If the phone gets too hot, turn it off and let it sit for awhile before using it again.
In any case, Apple's tech note says that it's designed the iPhone 3G and 3GS to comply with safety standards, and that the heat warning is to prevent any damage to the internal components. But it doesn't mean that the iPhone is about to go thermonuclear in your hand.