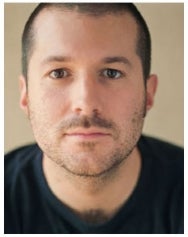 Apple's senior vice president of industrial design Jonathan Ive partially lifted the veil on the secretive machinations of the Apple design process at a special "Innovation Night" event held at London's Royal College of Art this week, where he later received an honorary doctorate.
Ive was interviewed on stage by outgoing RCA rector Professor Sir Christopher Frayling.
"I can't imagine designing without making [physical products]," Ive told the assembled horde of 700 UK design gurus. The front section of the hall was reserved for Apple VIPs, who all received Apple goodie bags.
"I love making prototypes. We go right from idea to prototypes. I just love making objects.
"Prototypes create this dramatic shift in the conversation—suddenly it becomes tangible and the silence goes away."
Ive explained why Apple limits its product range: "When you do everything to make the very best product, it also means you're very focused on just a few products."
Ive admitted that his drawing skills are "terrible." "And I'm a lousy presenter. So I focus on designing instead," he joked.
BBC technology correspondent Rory Cellan-Jones asked Ive what was the one thing about the first iPhone he really hated. Ive evaded the question, but stated designers "are never satisfied."
The British-born Apple design chief was dismissive of design based on focus group: "We don't do focus groups. They just ensure that you don't offend anyone, and produce bland inoffensive products."
Former toilet designer Ive was born in Chingford, Essex, England, in 1967. As well as the iMac he has won awards for his innovative designs of the aluminium and titanium PowerBook G4, MacBook, unibody MacBook Pro, iPod and iPhone.
Employee and friend of Apple CEO Steve Jobs, Ive was the winner of the London Design Museum's inaugural Designer of the Year award in 2002, and won again in 2003. He was listed in the 2006 New Years Honours list, receiving a CBE, for services to the design industry.
Graduates of the RCA, the world's only postgraduate art and design school, include architect David Adjaye, artists David Hockney and Tracey Emin, film director Ridley Scott (director of Apple's legendary '1984' commercial for the launch of the Macintosh) and vacuum man James Dyson.
[Many thanks to Pascal Finette—evangelist, consultant and Open Innovation Catalyst at Mozilla Labs—who reported the sage sayings of Jonathan Ive via Twitter. Follow him at twitter.com/pfinette]