Can an expansive, graphically stunning sci-fi RPG find a home on the iPhone? Or, will EA once again put its name on something that is rushed, flawed, and pretty much just a poorly realized imitation of one of its prize franchises? Come on, you already know the answer to that question.
Mass Effect Galaxy, developed by Bioware, is part of the world of the wildly successful Mass Effect series of games. If Mass Effect is a beloved series full of creative monsters, compelling characters, and distinctive wonder not unlike Star Wars, then Mass Effect Galaxy is sadly the widely reviled Star Wars Holiday Special.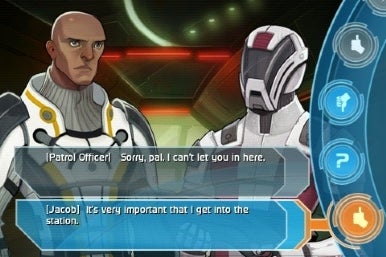 Mass Effect Galaxy follows the exploits of Jacob, a former Alliance soldier, and Miranda, an Alliance spy, as they try to save humanity from a Batarian terrorist attack. The gameplay has two distinct forms: an interactive series of cartoon scenes where you dictate how Jacob interacts with people and a top-down action shooter where you use the accelerometer to navigate Jacob around the world.
I was actually quite impressed with the Cartoon Network-like artwork of Mass Effect Galaxy. In between battles, you'll often be tasked with guiding Jacob to different parts of the galaxy and the animations, soundtrack, and characters are all pretty well defined and memorable. Jacob is a cookie-cutter bald space marine character, but the aliens he encounters can often be reasoned with (instead of fought with) and you can avoid fights, gain more intelligence, or be more antagonistic depending on what conservational choices you make.
You won't have the ability to create and define relationships like in the original Mass Effect, but the "choose your own adventure" aspect I found oddly compelling. Casey Hudson's writing team does a bang up job of introducing people to the world without making the missions clichéd or expected. Yeah, you'll basically just be shooting a lot of things, but in between scenes you begin to feel like there's a mystery to be solved too.
Unfortunately, this game reeks of one on a deadline. The animations seem rushed and half-finished. At times, the cut scenes depict action and actual animations with dialogue and sound. Other times, there's only a voice over and a bunch of still images. Perhaps EA wanted the game to serve as a promoting mechanism for Mass Effect 2 (the load screens reveal that Jacob and Miranda will appear in the upcoming title) because there seems no other reason for Mass Effect Galaxy to be this unfinished.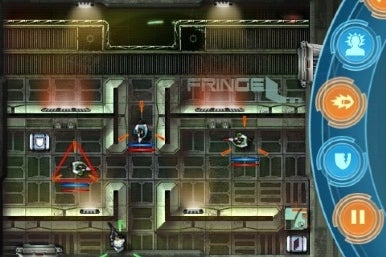 The cartoon-based social interactions are short, which is a shame, because the combat is a much weaker game element and requires constantly loading between maps. Typically, you enter a room with lots of boxes, walls, and enemies. You guide Jacob via the accelerometer and he'll automatically shoot anything he's locked onto. It feels like you're playing marble-madness because of the constantly titling of the screen, but I'll give Bioware credit because it's a unique way to engage the iPhone's control schemes. Every time you pause the game you can recalibrate the accelerometer, thus ensuring you won't be stuck holding it level the entire time. The downside is that between maps long load times harass you and sometimes the loading reticule will hang around for a few seconds after combat has begun— an extremely sloppy and frustrating flaw. During this awkward period, you won't be able to move and you can't use your special weapons.
Even when the combat loads properly, you'll find it repetitive and uninspired. Mass Effect Galaxy boasts that you have the ability to use a heavy weapon, freeze the enemy, lower their shields, pick up powerups, and eventually upgrade your weapons. But you'll constantly confront the same one or two enemies in every map, the distinction between what you can shoot through and what you can't is vague at best, and the weapons can only be upgraded once and by the time you upgrade your rocket launcher the enemies become easy cannon fodder and the difficulty plummets.
Like every EA Mobile game I run on my iPhone 3G, it crashes occasionally and sucks up your battery life pretty quickly (though not as fast as The Oregon Trail). It's not just the long load times that disjoint an immersive experience, but the lackluster combat, oddly unfinished animations, and constant loading. But despite all of these flaws, I still really appreciate that Bioware translated their science fiction world to a compelling (if brief) story with a beautiful art style. If they can only develop gameplay that is worth more than ten minutes of your time, then Mass Effect Galaxy wouldn't have already been deleted from my iPhone.
Mass Effect Galaxy is compatible with any iPhone or iPod touch running the iPhone 2.2.1 software update.
[Chris Holt is an assistant editor at Macworld.]