A few iPhone apps are just a bit… unworldly. Leaf Trombone ( ) is one example—it's basically Guitar Hero with leaves. Shazam ( ), which records audio clips and reports back on the song and artist name, is another. They seem like magic on an LCD screen.
Entering this short list of phenoms is 8Bitone Micro Composer, a $9 audio sequencer that proves how software on the iPhone can mimic a physical synthesizer. In fact, 8Bitone almost works better than an analog synthesizer, such as the Roland SH-201, because you can quickly load and save audio clips, create unique sounds. And let's face it: the iPhone is a lot more portable.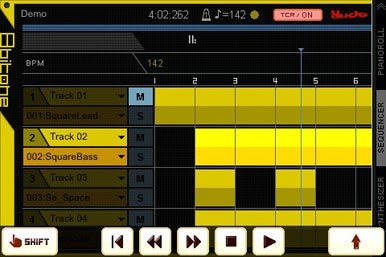 The app, created by Yudo (the same Japanese company behind Vocoder SV-5 and Rectools02), is remarkable because it functions exactly like an old-school 8-bit computer—think: life before the IBM PC and original Mac. 8Bitone lets you generate sounds that imitate—in a wonderfully accurate way—the Nintendo console systems of yesteryear. The app has three main modes: a piano roll screen for composing a track, a sequencer for assembling the tracks, and a synthesizer mode for creating audio samples—basically, the short tones you add to the tracks.
Read more…
8Bitone only supports four tracks, but that's plenty for just about any micro-music composer. Once you create a song, you can save it and load it for later playback. The app is self-contained as far as I can figure out—you can't export the song to iTunes, for example. You could easily connect the iPhone headphone output to your computer and record clips that way.
If 8Bitone just let you punch in audio patterns and arrange them into a song, it would still be worthwhile. The tool goes much farther: there's a full synthesizer that lets you adjust tones in infinite ways. (The app does require some understanding of how a synthesizer works.)
There are controls for oscillator (the sound signal itself) and envelope—e.g., parameters of the signal, such as the sustain (how long the sample plays), decay (how long it takes before the sample reaches a full sound level), and release (how long the sample plays after you release the key). You can also control the arpeggio, which is a musical term that describes how notes are played in rapid succession rather than all at once. So, with arpeggio, you can mimic the "game over" sound of most Nintendo games—a series of quick audio blips.
So, why would anyone use 8Bitone? For one thing, it's just fun to create a song and learn how all of the control works. Composing a full song takes a couple of hours at least, and if you're serious about it, the final result is satisfying in its own right. I could also see indie bands like The Flaming Lips or Animal Collective using this tool to create unusual audio patterns.
The tool is not entirely perfect. Some of the buttons look grayed out, even though they are actually available. The app has a high learning curve, especially if you are not a musician. Fortunately, Yudo offers quite a few tutorials (there is no voice over, so they are visual how-tos) to help you learn the basics.
This is one of those unusual apps that's hard to explain, and I'll admit that it's not for everyone. But what makes 8Bitone so interesting is how it packs a real old-school synthesizer onto the iPhone, and how the controls and recording options are so intense—you can get lost in audio creation, which makes a plane ride or long road trip go a lot faster. For anyone with a passing interest in learning about or creating music, 8Bitone is worth a serious look.
8Bitone Micro Composer is compatible with any iPhone or iPod touch running the iPhone 2.2.1 software update.
[John Brandon is a 20-year veteran Mac user who used to run an all-Mac graphics department.]