Those wishing to unplug from expensive cable and satellite TV services are increasingly turning to video content streamed across the Web. Media center applications such as Boxee and Plex provide this content in a unified interface. ZeeVee Inc., makers of the ZvBox (a device for channeling Internet video from a computer to an HDTV) has recently shoved its oar in as well by releasing a Mac-compatible version of its Zinc Internet video browser. I've spent some time with Zinc and here are a few impressions.
Not just a video browser
Unlike Boxee and Plex, which are based on the open-source XBMC project, Zinc is a web browser that's been rejiggered to look like a media center application. Peer inside the thing and you find a heaping helping of Firefox 3.0.10. To make this relationship even more obvious, launch Zinc, place your cursor where the menu bar should be, and click the Restore button in the upper-right corner of the menu bar. Suddenly the Firefox interface appears—complete with address field, navigations buttons, and History, Bookmarks, and Tools menus. At this point you're welcome to use it as you would any other web browser. When you're ready to return to the Zinc interface, just click the Zinc button in the toolbar.
Within the Zinc interface you find navigation commands arrayed along the left side of the screen and 25 large icons representing content channels to the right. The navigation commands include Zv Presents (a view of the main channels offered by Zinc), Favorites, New, History, ZvHDTV (tutorials about using the company's go-between box), Settings, Help, and Exit. The channels include such old favorites as Netflix, Fox, CBS, ABC, Hulu, MTV, Nickelodeon, and ESPN. Internet-only channels such as YouTube, Yahoo, Revision 3, and CollegeHumor are also represented.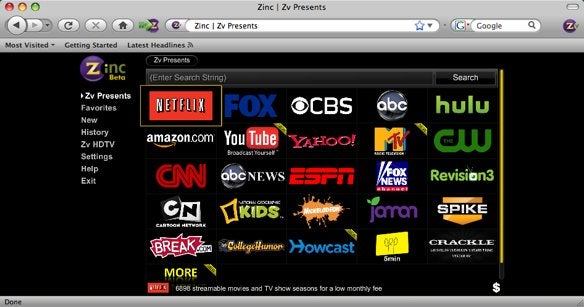 You navigate through the commands and channels much as you would with Boxee or Plex. On a computer keyboard use the arrow keys to move from one item to another and press Return to activate a highlighted item. You can use a mouse as well. And iPhone apps such as Rowmote and AirMouse that emulate a keyboard are options too.
Entertainment source
Zinc follows a well-worn path for providing its content—Media RSS (MRSS) feeds. If a website offers such a feed, it can be added to Zinc and played from its interface. Zinc hints at this capability with its More Content entry at the bottom of the channel icons collection. Click it and you're provided with a few MRSS links that, when clicked, show you the available content from the channel in an RSS Feed view. To easily access that feed in the future, select Add to Favorites and press Return. It's then available when you select Favorites.
You can add standard RSS feeds too. When you select an entry from one and press Return, you're taken to the web page associated with the entry.
Performance
When you launch Zinc it lets you know that it's beta (beta 3, as I write this). And it shows. Unlike Boxee and Plex, Zinc hasn't found a way to hide the web interface of some of its channel sites. For example, go to Hulu, choose a program episode, and ask it to play and you're taken to Hulu.com and shown the program in the standard video-in-the-middle-of-the-page interface. With Boxee and Plex, Hulu's content is automatically shown full screen. This is the case with some other channels as well, which makes Zinc feel more like just an aggregator rather than a full-blown Internet video player with fully-integrated content.
And it's not stable. All morning I received server errors—making it impossible to access just about anything offered through Zinc even when I could easily get the same content from Boxee and Plex. Additionally, it's crash-prone. I can, without fail, cause it to crash simply by selecting the Nickelodeon channel on my MacBook Pro.
Zinc is certainly nothing to give up Boxee or Plex for. Again, it's beta and will hopefully mature and improve over time. But it's an interesting idea and one worth keeping an eye on.