Ngmoco has announced the release of Rolando 2: Quest for the Golden Orchid, a new game for the iPhone and iPod touch priced at $10.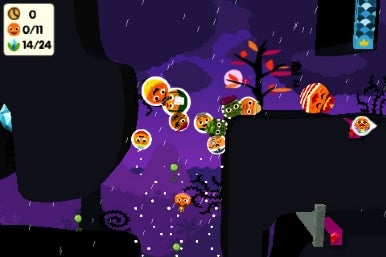 Rolando 2: Quest for the Golden Orchid is the sequel to Ngmoco's original Rolando, which debuted in December 2008 and became one of the company's biggest hits for the burgeoning iPhone platform. Like its predecessor, Rolando 2 was created by indie developer HandCircus, and uses the art design of illustrator Mikko Walamies and music from breakbeat artist Mr. Scruff.
Rolando 2 depicts a world filled with roly-poly Rolandos who move through their dangerous world by rolling from side to side. The game uses the iPhone's accelerometer and touch-screen interface to maximum effect.
Quest for the Golden Orchid features 46 levels spread across six chapters of gameplay. The developer has created new gameplay mechanics for Rolando 2, and incorporates a new 3D graphics engine and a deeper storyline that's non-linear: You decide along the way how the story unfolds, based on your actions.
Quest for the Golden Orchid also links to Ngmoco's recently introduced Plus+ Network, a social networking technology Ngmoco debuted along with Apple's release of iPhone OS 3.0.
System requirements call for iPhone OS 3.0 or later.