The following article is reprinted from the Today@PC World blog at PCWorld.com.
We know for some time now that Sony Ericsson (SE) is working on a Google Android based mobile phone, but the company has been keeping mum on details. However, pictures leaked by a Danish site appear to reveal Sony Ericsson's upcoming Android phone, and it looks like a good one.
Code-named Rachael, Sony Ericsson's Android phone will be announced later this year, according to information obtained by the Danish Mobil magazine. The phone will part of SE's XPERIA series, which so far includes the Windows Mobile-based X1 model.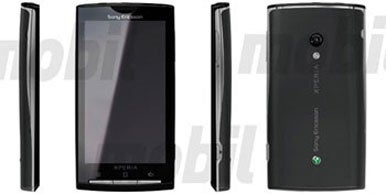 And as SE joined the Open Handset Alliance in December last year, it was shaping out quite clearly that the Swedish company would join the Android-running smartphone army. Mobil says that the Android-loving SE Rachel is based on the Qualcomm Snapdragon platform (QSD8250), wich would give the phone processor speeds of up to 1GHz and 7.2Mbit per second HSPA downlink speeds.
The leaked pictures also show the SE's upcoming Android phone featuring an 8.1-megapixel camera with autofocus and flash. At the top of the phone a 3.5mm headphone jack and a miniUSB port are also present. No specific details on the phone's display size or resolution were released, but the Dutch magazine says it has a pressure-sensitive touchscreen.
Some of the specifications of SE's Android phone are looking very good in comparison to other smartphones on the market today. An 8.1-megapixel camera would be most powerful on an Android handset yet, and remarkably better than the 3-megapixel camera on the latest iPhone 3GS. On the Android realm, the HTC Hero and the Samsung Galaxy have only a 5-megapixel camera.
It's highly likely that SE's Rachel will run on the upcoming 2.0 version of Google Android operating system, which is also expected to be released towards the end of this year. As for Adobe Flash, it is yet unclear whether this phone will feature this capability.
For more touchscreen smartphone goodness, you might want to check our Smartphone Palooza: 10 Hot Touchscreens Compared.