The weather reporting business has its pros and cons. On the plus side, everybody's interested in the weather, and the weather is (except in Los Angeles) ever-changing. But there are some negatives, too. First, unless you want to get very geeky, there's really only so much you can say about weather, even when you're speculating on future events. (You think we'll get rain? Gonna be a hot one today?) Second, despite all kinds of advances in the field, both high tech (advanced radar, better forecasting models) and low tech (inexpensive weather stations enable individuals to add increasingly local data), the big players are on a fairly level playing field. There are arguments about which outlet has the best forecasts, but for most people, forecasts are generic, a commodity news item.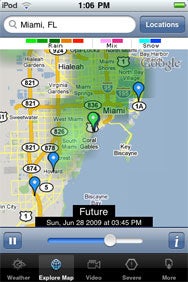 This raises the question: when there are plenty of free weather apps available for the iPhone, what makes one worth paying for? And when one outlet— The Weather Channel Interactive, in this case—offers both a paid and a free app, are the differences worth it?
The Weather Channel Max is a fine app, offering many improvements also made to the most recent update of the free Weather Channel app ( ). It sports a slick and intuitive interface, plenty of map overlay options (radar, cloud cover, temperature), the ability to search for, save, and store an unlimited number of favorite locations, and timely local and regional forecast videos of the type shown on the TV version of The Weather Channel.
But The Weather Channel Max offers several benefits compared the free version. There's no advertising, for example. For weather aficionados, this may not be trivial, as it frees up some precious screen space, allowing maps to be a little bigger, and allowing for less clutter. An ad-free environment in and of itself may be worth the $4 price tag.
Other notable differences between the paid and free version include predictive radar in motion—the free version has radar in motion, but does not project future conditions on its map overlays. The radar in motion, overlaid on Google Maps, works well and is fairly responsive, even when you zoom in and out, and scroll in different directions. It takes a few seconds for the map to redraw on the screen, but it's not clear whether this is due to a fault in the app or whether it's due to the limits of the iPhone's processing power. Subjectively, the latter seems more likely, as I've experienced similar two- or three-second lags with other graphics intensive apps, such as The Sims 3. The predictions will go up to six hours in the future, The Weather Channel says
The paid app also gives you the ability to set your own custom start page. Most weather apps use current conditions as a default, but in addition to this choice, The Weather Channel Max lets you display (for any location) the hourly, 36 hour, and 10-day forecasts; the weather map; the video center for access to brief local, regional, and national forecasts that are updated frequently; or simply a list of "my locations"—places that you've chosen to save for quick access.
Also included in The Weather Channel Max, but missing from the free version, are marine forecasts. One feature that's implemented for only some major metropolitan areas is the ability to view traffic cams. For example, real-time images are available for seven major interchanges in the New York City area, and for 20 in Seattle. However, a spot check revealed that no traffic cams are available for Chicago, Miami, Los Angeles, or Boston.
The Weather Channel Max is a very good offering, and offers a slew of options that are easily accessible through a well-designed interface. The ad-free environment makes a noticeable difference, and the "future" radar-in-motion view is, if not unique, certainly an unusual and handy feature. Bundle in the customizable start page and marine forecasts, and the $4 price tag for these features seems a pretty fair price. But the free version of The Weather Channel, especially with recent upgrades, remains a very versatile weather app that will suit the needs of many iPhone and iPod touch users.
The Weather Channel Max is compatible with any iPhone or second-generation iPod touch running the iPhone 2.x software update.
[Jeff Merron is a freelance writer and editor living in North Carolina.]