The news-on-your-iPhone market became more crowded this week as CNNMoney.com joined the AP, New York Times and others with their own free iPhone application.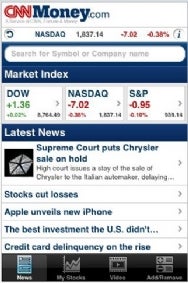 The CNNMoney.com app enables users to pick and choose from amongst 10 editorial section, from Technology to Small Business for a more customized news feed. It also offers individual stock quote tracking, updated in a live scroll — similar to the crawl below the main image on news television.
In addition to text, the CNNMoney.com application displays video of top news and feature stories. These include, according to the company, "appointment programming shows such as Tech-Mate, Strategy Sessions, and New Money."
System requirements call for iPhone OS 2.1 or later.