On Tuesday Tidal Pool Software released Version 1.0 of its MacProxy proxy support software. This $20 program adds system-wide network proxy support for any application on your Mac, even ones without built-in proxy support.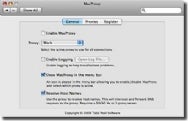 MacProxy allows users to surf the Web anonymously, using a proxy server as an intermediary between the Mac and the Web site or Internet service they're connecting to. MacProxy 1.0 also serves to act as a system-wide proxy setup; you can configure MacProxy and all network connections are routed through the selected proxy.
MacProxy works with any compatible SOCKS 4, 4a, and 5 proxy server as well as with most common applications (such as Safari, Firefox, Mail, iChat). It also allows tracking of session statistics, DNS resolution through the proxy server, secure browsing through IP hiding, and logging support.
A free 30-day trial is available. System requirements call for Mac OS X 10.5.7 or later.