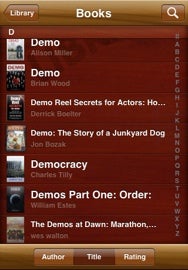 Just when you thought it was safe to go back in the App Store. Delicious Monster's iPhone companion app for its popular Delicious Library 2 media-cataloging application was removed from the App Store on Tuesday, though not, as it turns out, at the behest of the usual culprit, Apple. Rather, this time the objection came from online retail supergiant Amazon.
The news came from Delicious Monster CEO Wil Shipley, who said on Twitter that he was forced to remove the application due to Amazon's contract governing the use of its application programming interfaces (APIs), the software that allows developers to access information from Amazon's database.
The relevant portion of the contract, section 4e, states:
You will not, without our express prior written approval requested via this link, use any Product Advertising Content on or in connection with any site or application designed or intended for use with a mobile phone or other handheld device.
However, according to Shipley's Twitter posts, Amazon is not granting approval for anybody at the time being.
This isn't the first time an iPhone developer has run afoul of the retail site. In November 2008, Mazo, an Amazon shopping client for the iPhone, was removed from the App Store under similar circumstances. Roughly a week later, Amazon released its own iPhone app with similar features.
While it's Amazon's right to control the use of its APIs however it sees fit, to my mind, this blanket ban on mobile apps is bizarre and, to put it bluntly, stupid. Delicious Library has long been an extremely popular Mac application and its integration with Amazon is a huge part of that. If Amazon has no problem with the Mac program, why should it have an issue with the mobile version? Unless, of course, as with Mazo, it's planning to roll out a similar media-cataloging program in the near future. And if so: is Amazon really that afraid of a little competition?
Alas, we shall mourn Delicious Library's passing until the date in the indefinite future when it rises from the grave to appear on the App Store once again. Until that time, console yourself by gathering your loved ones to watch this delightful (and delicious) video about the gone, but not forgotten application.