CalDigit VR mini, a compact, bus-powered two-drive RAID system from CalDigit, began shipping Tuesday. The 1TB storage device costs $699.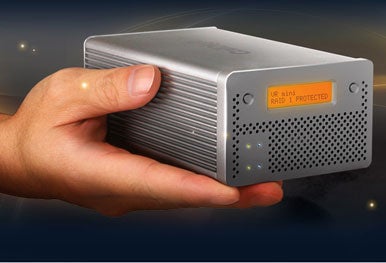 First announced in April, the VR mini supports RAID Level 0 and 1, or JBOD (Just Another Bunch of Disks) configurations. It features a quad-interface, working with USB 2.0, FireWire 400 or 800, and external Serial ATA.
Measuring 2 inches tall and five inches long, the VR mini features two removable 2.5-inch SATA drive modules.—Philip Michaels
Screen-capture tool Layers now snaps shots of Web pages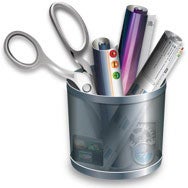 On Tuesday, wuonm announced the release of Layers 1.1, the latest up to its screen-capture utility. WebShot is the major new feature of the update, which allows users to take a picture of an entire Web page, including Flash content, in Mac browsers Safari, Firefox, WebKit and Opera.
Version 1.1 also features support for the Growl notification framework, a new preferences interface, and a less intrusive watermark in the demo mode. Layers requires Mac OS X 10.5 or later and an application that supports the PSD format; it costs $25 for a single-user license.—Dan Moren
RealBasic update adds OpenGL support for 3-D
The latest release of RealBasic adds OpenGL support for 3-D images. And that's just one of the more than 100 improvements and 31 new features introduced Tuesday in the latest release of the cross-platform programming tool.
RealBasic and Real Studio 2009 Release 3 introduces OpenGL support making it easier developers to create 3-D applications. Real Software cautions that the latest release's OpenGLSurface control does require knowledge of the OpenGL language, but notes that there are open-source projects implementing an RB3D-compatible programming interface on top of OpenGL for programmers who use RB3D.
Real Software has a complete list of changes in Release 3 in the release notes of its product download page.
RealBasic comes in a $99 Personal Edition as well as a $299 Professional Edition for cross-platform development. Real Studio costs $1,495.—PM
MaxProxy proxy-support utility debuts
MaxProxy, a new utility from Tidal Pool Software, promises system-wide network proxy support for the Mac, including for apps without proxy support.
The developer says that enabling MaxProxy will help users avoid proxy set-up for each app. The utility can let users surf the Internet from behind a firewall, tether a Mac to a smartphone and surf the Web anonymously.
The $20 program for Intel-based Macs running OS X 10.5.7 features an interface accessible from a menulet control and a System Preference pane. From there, users can enable and disable the proxy as well as switch between multiple proxy servers. A 30-day demo can be downloaded from Tidal Pool's Web site.—PM
MacVide updates VideoFlashConverter
MacVide released VideoFlash Converter 2.7 on Tuesday. The update to the video conversion utility adds some minor enhancements, such as interface alterations, fixes for the application's Preview window, and other minor bug fixes. VideoFlash Converter requires Mac OS X 10.4 or later and costs $40 for a single license.—DM