Have you ever wanted a handy, always-there weather forecast, ready for viewing at the launch of an app (be that app on your iPhone or your Mac)? Thanks to Weather Underground, and Mac OS X Hints tipster allanBook, you can now easily add an automatically-updating weather forecast to iCal.
Load the Weather Underground site in your browser of choice, enter a city name or zip code in the Search box, then click Go. For instance, if you entered Auckland, New Zealand, you'd get this page of weather info. Near the top right of the page you'll see an "Add to My Favorites" link, along with icons labeled ICAL and RSS.
You can simply click on the ICAL link to add this particular weather forecast to iCal. However, if you do it this way, the calendar won't automatically update as time goes by. Instead, Control-click on the ICAL icon and select Copy Link (if you're using Safari; in Firefox, this is labeled Copy Link Location) from the pop-up menu.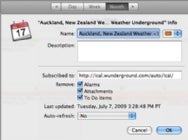 Switch to iCal and select Calendar -> Subscribe, then press Command-V to paste the link you just copied and click Subscribe. A new dialog will appear onscreen, as seen at left. Edit the Name field—Auckland, perhaps—and a Description if you wish. Click the Auto-refresh button and set the pop-up menu to Every Week, then click OK. (Feel free to use a shorter interval if you think the forecast will change more often.)
Congratulations, you now have an auto-updating weather forecast for Auckland, New Zealand (or whatever location you chose) in iCal. For more info on any day's forecast, just double-click the entry. In the Info window, you'll see a URL for the full forecast (for US locations, at least), along with a more-complete description of the selected day's weather.
Every week, this calendar will update with the next weekly forecast. If you want the weather forecast to appear on your iPhone, you can (as of iPhone OS 3.0) do that, too. You can't sync subscribed calendars via MobileMe, but you can do so in iTunes. Connect your iPhone, select it in the sidebar, and click on the Info tab. In the Calendars section, click on the newly-created subscription to sync the calendar to your iPhone.
While a one-line-view of the weather in iCal probably won't completely meet your needs for weather info, it does give a nice "at a glance" view at the upcoming weather.